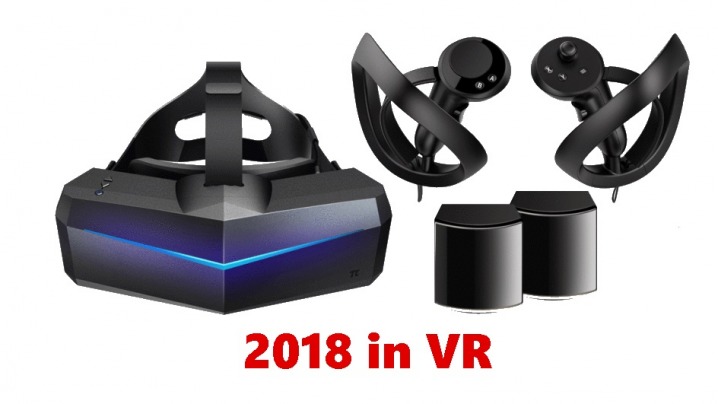 Welcome Blur Busters readers to our VR State of the Union, 2018 edition!
My name is Bela, I'm a former AAA game developer working on virtual reality graphics and display R&D, and have been in collaboration with Blur Busters for a year now. So, welcome.
While Blur Busters mainly writes about high-Hz gaming monitors, VR headsets are also high-Hz. Some VR headset makers have been influenced by Blur Busters research in low-persistence, including Chief Blur Buster's contributions to the Kickstarter Rift and early low-persistence research (they were beta testers of TestUFO six months before TestUFO.com launched to public!)
In this post, I'll be going through a list of what I consider to be notable developments in VR land for the 2018 calendar year, based on my experience with various PC and mobile headsets, both as a VR rendering programmer and a VR gaming and simulation enthusiast.
2018 Virtual Reality Headset Sales
One of the big questions about the status of the VR industry in 2018 is simply: "is VR dying?"
According to SteamVR stats, no:
Note: The gap in the chart above is a data error by Valve, but the trend is clear.   
Impartial observers and industry analysts also don't think so, backed by global market research data.
Smartphone VR add-ons like Samsung GearVR and Google Daydream, or the myriad cheap clones out there, are definitely in decline, dropping by more than half since 2017 (1 million to 400k shipped).
Tethered VR headsets sales have also declined by 37%, despite price rebates to Sony PSVR, Oculus Rift, HTC Vive and Windows Mixed Reality headsets. Each one of these companies sold around 100,000 headsets in 2018.
However, a bright spot in sales is coming from Standalone VR headsets, like Oculus Go (3DOF) and Xiaomi Mi VR, which grew over 400% in the same period with over 200,000 units sold.
Oculus Quest, coming out early 2019, will provide inside-out tracking and six degrees of freedom for both headset and controllers, to capitalize on these trends.
Sadly, there is no way to directly render graphics for these standalone headsets via the new RTX graphics cards from NVIDIA, which was a major release for 2018. This is besides software-based mirroring solutions which can add latency. I will be testing various hardware and software solutions in 2019 for performance and lag. It's time to cut that wire!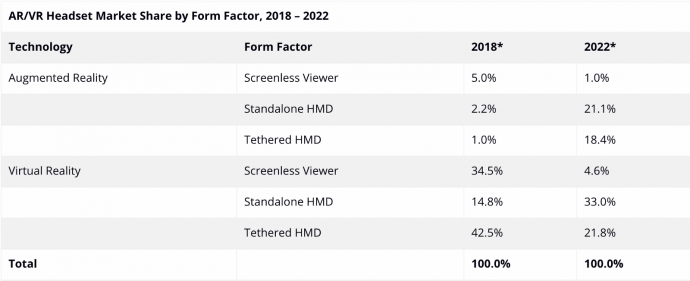 Contrary to this slide, I believe that the market segmentation between standalone and tethered VR HMDs will vanish in the coming year or two.
The newest 802.11ay WiGig routers and adapters should be arriving in 2019 and can theoretically stream up to 100 gigabits per second (gbps), sufficient enough to handle the upcoming HDMI 2.1's raw, wired-only 48 Gbps peak bandwidth before compression.
There are other solutions available now such as the wireless module from TPCast for Vive and Vive Pro, and Oculus Rift, although it's not perfect and costs a whopping $319 USD too! A bit too rich for my blood.
Wireless / untethered helps with popular athletic VR games like Beat Saber, filling the role of "killer VR app", with numerous Twitch streams devoted to showing off ninja-like reflexes with light sabers. I've played this game quite a bit this year, and especially with custom songs mods on the PC version, it's a definite buy. Also helps work off some holiday calories!
New PC VR Headsets
My personal interest in VR is in the high-end, so from my perspective, that means PC-driven using a beefy system which I've upgraded to the RTX 2080 Ti.
With my Oculus Rift, my top problem areas to solve are, in order of importance:
The wire, get rid of it! Then I won't trip on it, or worry about doing that, when dodging and slashing enemies in Skyrim VR or chopping boxes in Beat Saber. Even when playing a racing game sitting down it bugs me.
Software support. Not enough new games! The beautiful Forza Horizon 4, one of the most stunning looking racing games ever, doesn't support VR at all. For shame! Get on that, Microsoft! Hopefully a hack will come out, although the use of the Windows Universal platform will make hacking in VR support more challenging than a traditional Desktop game.
I've coded on the StarVR with its 210-degree FOV and even at 60hz the immersion was amazing.
Resolution and SDE. Yes, I put this lower priority than the annoying wire. If only people would realize that standalone VR's success is at least partially due to the lack of a wire, not merely the cost savings of not needing a PC. The Oculus Quest will have the rendering power of an Xbox 360, which can be reproduced in a PC quite cheaply.
Lens glare. Very annoying.
Sensor install pain. This is solved by inside-out tracking but that suffers from occlusion issues, so it's not a perfect fix. I consider removing external tracking sensors low-priority, since you just have to install sensors once and that's it. I don't see the need to bring your VR headset outside of the house either, so mobile is rather pointless (to me). The whole point of VR is that you never have to leave your home again, right? Mom, meatloaf!
2018 has seen gifted us with HTC Vive Pro and Samsung Odyssey+ come out, both offering 1440 x 1600 resolution per eye at 90hz on low-persistence OLED screens, and are significantly clearer than the first-gen HMDs.
While the Vive Pro is the only one with a robust, first-party wireless module, it's quite expensive at over $1000 USD with all the bells and whistles, while the Odyssey+ has the industry-best anti-screen-door-effect (SDE) filter which apparently blurs the OLED sub-pixels together. It also has good lenses which provide superior anti-God-ray glare reduction. It is substantially cheaper than the HTC Vive Pro, at only $500 USD retail, and doesn't require any additional tracking boxes to install and set up around the room. I consider it a good purchase option, now if only someone would make a wireless adapter for it! Or one that works with any VR headset using HDMI or Displayport and USB connectors.
PIMAX: The Dark Horse in VR
Pushing the envelope for resolution and FOV, PIMAX is probably the most notable and successful Kickstarter VR campaigns since the Oculus Rift. I recommend watching this interesting interview with its founder, Xunshu, by prolific VR reviewer / industry mascot Sebastian Ang over at Mixed Reality TV.
PIMAX offers an amazing 200-degree field of view (FOV), and currently offers two models, the 5K Plus ($699 USD) and the 8K ($899 USD).
Both employ two custom LCD panels each, with low-persistence. The 5K+ has 2560×1440 resolution per eye at 90 Hz refresh rate, and the 8K (which is really 4K x 2, not real 8K) has 3840×2160 per eye at 80 Hz.
The DP 1.4 interface bandwidth cannot deliver that many pixels raw, so it's upscaled in the display in the 8K model. According to Sebastian Ang, the 5K+ looks better for some content, and is the better buy since it offers 1:1 mapping and higher refresh rate too. I trust his judgment!
If I buy an "8K" headset, you can bet your bottom dollar that I don't want it to be hampered by the choice of an inadequate connector like DisplayPort 1.4. An improved 8K+ will come out later and offer native "8K" resolution, using 1:1 mapping.
Ordering the PIMAX now will have it ship by Feb 21, 2019.
It should be noted that the PIMAX headsets use the SteamVR Tracking system so that is an additional expense ($300 USD), but provide terrific low-latency tracking, free of occlusion issues that has been affecting some camera-based inside-out tracking systems.
---
That's it for now, so have a happy new year. There will be some exciting monitor & VR news from CES 2019 starting January 8th. See you soon!