Have you seen this UFO online on a different display website?
That's because they use our free display testing inventions. Our display testing inventions are used by over 500 content creators worldwide with a combined 100 million subscribers!
Blur Busters Motion Tests For Displays at TestUFO.com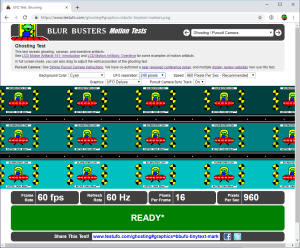 Since the invention of the TestUFO Motion Tests at www.testufo.com, it quickly became the most popular motion test for testing display motion performance.
There are 30 free motion tests located at TestUFO, including tests for frame rates, ghosting and overdrive, high speed cameras, persistence, MPRT, frame skipping, and many more.
Many display reviewer websites and YouTubers including PC Gamer, Toms Hardware, Linus Tech Tips, and others, use TestUFO to test motion quality of gaming monitors!
Today, many display manufacturers even use TestUFO to test their displays. We also create custom motion tests on contract basis.
Pursuit Camera Technique For Measuring Motion Blur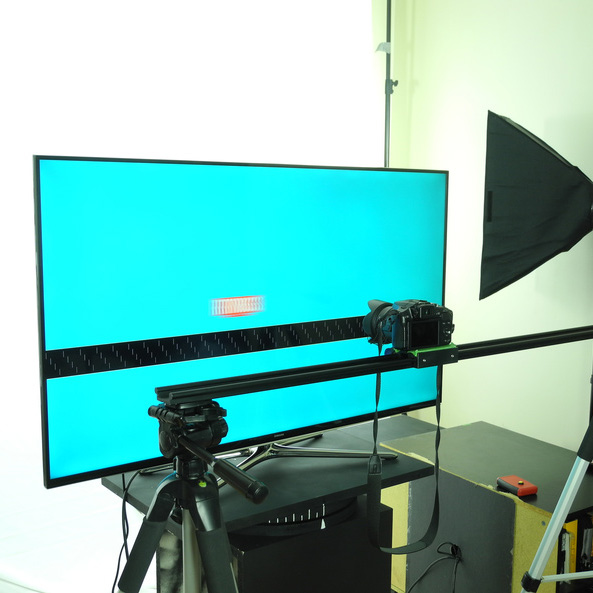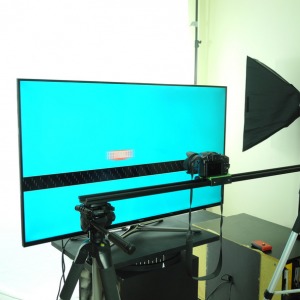 We invented a method of accurately photographing display motion blur using only an off-the-shelf camera. Our technique can also measure pixel response.
Our special temporal test pattern allows manually-propelled cameras to achieve the same tracking accuracy of expensive motorized tracking cameras.
We co-authored a peer-reviewed conference paper with NIST.gov, NOKIA Labs, and KELTEK that confirms the accuracy of our invention!
Many display testing websites are using our invention including RTINGS.com, Tom's Hardare, TFTcentral.co.uk, PCmonitors.info, SWEclockers, HDTV.pl, and others.
RTINGS has an excellent YouTube video explaining our technique.
Method of Measuring Input Lag of Variable Refresh Rates
When NVIDIA's G-SYNC came out in 2013, Blur Busters was the world's first website to test the input latency of G-SYNC.
At the time, current methods of measuring input latency did not work for a variable refresh rate monitors such as FreeSync or G-SYNC. We solved this problem by hard-wiring an LED to a computer mouse, and used a 1000fps high speed camera to measure latency between the LED flash and the display update.
This technique has now since been used by multiple display testing websites to measure input latency!
Blur Busters' multi-page G-SYNC 101 article utilized this technique to create thousands of data points for very detailed test results.
Blur Busters Innovates In Testing Display Motion
For more information, please contact [email protected].