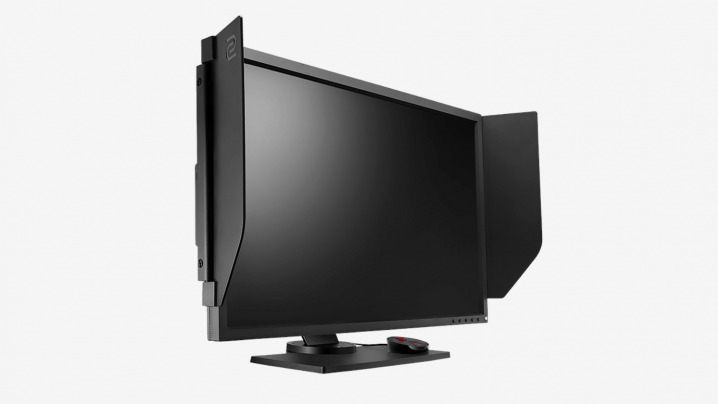 A steadfast monitor fan (gouki201) has noticed and tipped off Blur Busters about BenQ's new gaming monitor. The XL2746-B may be a direct competitor to Acer's XF272 X, although with the added benefit of BenQ ZOWIE DyAc (Dynamic Accuracy) technology, used to reduce eye tracking motion blur.
https://t.co/KGF7t2ivmc
Finally!! BenQ new gaming monitor is coming!!

Here come new one called "XL2746"
I think it should just like XF272 X + DyAc tech?

Very exiting about this one!
BenQ Zowie very long time no got a new machine.@pcmonitors @BlurBusters @HardwareUnboxed pic.twitter.com/RYqq26dRPi

— gouki201 (@gouki201) October 4, 2019
Looking back to BenQ Zowie designs, such as the XL2740, the new monitor will likely be a 27-inch panel. It was also 1920×1080 running at 240 Hz, with a 1ms GtG response.
The XL2476-B would be a fantastic addition should it sport all the same specifications and perhaps, could even come in at a QHD resolution. Any kind of G-SYNC or FreeSync compatibility would also be a huge benefit.
DyAc is an ultra-bright voltage-boosted strobe backlight (300 nits strobed, typical) designed to reduce motion blur without as much brightness loss of most strobe backlight modes. Historically, the BenQ monitors ending in zero do not have DyAc, while ending in 5 and 6 has DyAc (the BenQ XL2735, BenQ ZOWIE XL2546). , while the non-DyAc BenQ models tend to not have extra brightness.
Therefore, based on historic BenQ ZOWIE numbering nomenclature, we predict that the XL2746 will be 27″ 1080p DyAc.