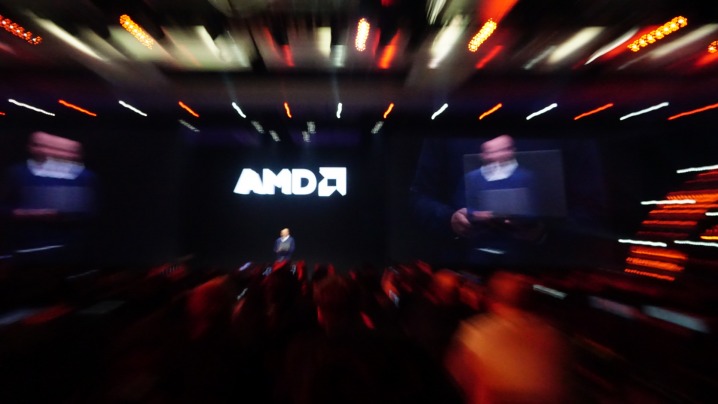 Not to be outdone in the hardware market, AMD has announced a bunch of new unveilings to combat the world of processor and graphics speeds at CES 2020.
Blur Busters founder Mark Rejhon attended the CES 2020 unveiling. He livetweeted on Twitter when the event was under way. Here's a gallery of almost two dozen pictures that Mark took:
Now, the most important deets for Blur Busters readers:
The major announcement of the three is the Radeon RX 5600 XT, the graphics card that is set to end the fight for 1080p gaming. AMD is saying that it is the ultimate choice for gamers looking to play at 1080p with enough power to handle AA games at the highest settings, delivering over 60 frames per second.
The card itself has 6GB of GDDR6 VRAM, running up to 1560 MHz boost clock off the same RDNA architecture that is found in the already existing RX 5500 and RX 5700 cards.
The Ryzen 4000 series was also in attendance at AMD's conferences and revealed itself as the next step in mobile processors for laptops. Lisa Su, AMD CEO said that 2020 will see the launch of the best laptop processor ever built with the Ryzen 4000.
"The Ryzen 7 4800U features eight Zen 2 cores, 16 threads, up to 4.2GHz boost, 1.8GHz base, eight Radeon cores and 15W TDP. Graphics will be 28% better than Intel's Core i7 and 90% better on multi-thread performance and 4% higher on single-thread performance."
By the end of 2020, AMD hopes to have more than 100 systems using the series, with the first few laptops to feature the processor, coming in the first quarter of 2020.
The biggest product announced from AMDs line was the Threadripper 3990X. The beast CPU has a whopping 64 cores, 128 threads and a total of 288 MB of cache. Its base clock speed of 2.9GHz is quite a number, but the boost clock speed can go as high as 4.3GHz.
For a cool $3,990 you can be part of the PC Master Race that whooshes past Intel's best in AMD's own internal testing, and we'll likely see similar results from third-party tests too. To compare this card to Intel's HEDT simply isn't fair as the 3990X is likely in a class of its own, for performance and price.
In addition, AMD announced three tiers of FreeSync:
AMD FreeSync
AMD FreeSync Premium — For 120+ Hz with LFC
AMD FreeSync Premium Pro — For 120+ Hz with LFC and HDR
The latter tier replaces AMD FreeSync 2.  Having Premium means you have Low Frame Rate Compensation (LFC) which provides smoother gameplay at frame rates lower than the variable refresh rate range.   Having Pro means you're also getting High Dynamic Range (HDR) for better colors and contrast.