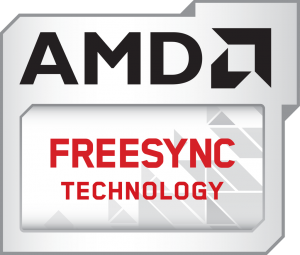 This list features current monitors that supports FreeSync (AMD), HDMI Variable Refresh Rate (VRR), VESA Adaptive-Sync , and "G-SYNC Compatible".
See a TestUFO Animation of FreeSync for a FreeSync demo!
Also, XBOX ONE gaming console now support FreeSync, 120Hz, and 1440p.
Jump to: 240Hz 144Hz Ultrawide 4K Other
Blur Busters participates in the Amazon Associate program, an affiliate system for sites to earn income from links to Amazon.

Blur Busters Approved Monitors
Tuned & certified by Blur Busters to meet our brand new motion clarity standard. Learn More
Swipe Left
Display Model
Size
Resolution
Refresh
Rate
VRR
Tech
Motion Blur
Tech
24″
IPS
1920×1080
99% sRGB
240Hz
1ms IPS
G-SYNC 
& FreeSync
Yes
PureXP+
27″
IPS
1920×1080
99% sRGB
240Hz
1ms IPS
G-SYNC 
& FreeSync
Yes
PureXP+
Latest 240 Hz FreeSync Monitors
Swipe Left
*Undocumented FreeSync functions on BenQ monitors if DyAc is turned off.

Latest 144 Hz FreeSync Monitors
Swipe Left
Ultra-Wide FreeSync Monitors With 21:9 Aspect Ratio
Swipe Left
4K FreeSync Monitors With 3840×2160 Resolution
Swipe Left
Earlier FreeSync Monitors 144 Hz+
Swipe Left
Supported GPU Required
For best FreeSync quality, you need a supported AMD graphics card to enable FreeSync.
Also, newer NVIDIA GPUs (Pascal or newer) have a "G-SYNC Compatible" mode that now supports FreeSync monitors that have a DisplayPort output.
Other Monitors
For a larger general list of other "Better Than 60Hz" monitors, see Official List of Best Gaming Monitors. as well as List of G-SYNC Monitors.
Additions & Questions?
Missing monitors? Errors? Please email us!
Questions? Come post in the Blur Busters Forums!