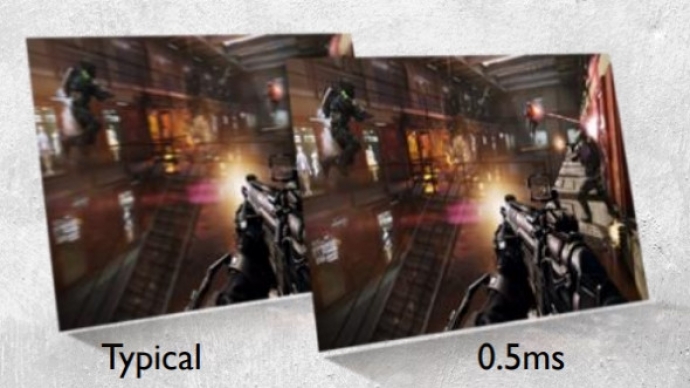 Set to release in 2018 is AOC's 27″ curved 2560×1440 AG273QCX TN monitor with a 144Hz refresh rate, FreeSync 2 and HDR "support" (400 nits reported brightness means approximated HDR), and 27″ curved 2560×1440 AG273QCG VA monitor with a 165Hz refresh rate and G-SYNC support.
If that wasn't enough, both are purported to have a 0.5ms response time, though the TN model will almost certainly reach that target more easily.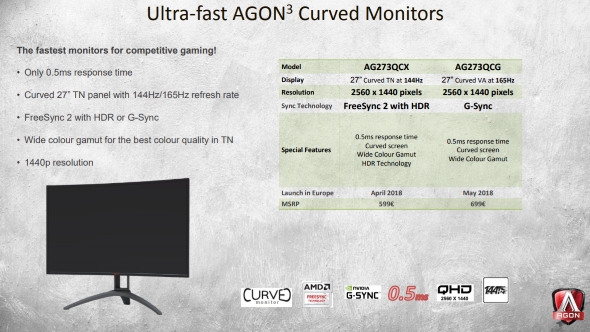 Speaking to PCGamesN, AOC's Alfonso Clemente said of the upcoming TN panel:
"We were talking with AUO and they have a new panel. Up until now curved monitors were either IPS or VA, which is ok, but the response time was not so great. There's always some ghosting, some blurring. But now there are curved panels from AU Optronics that allow 0.5ms response time."
When asked about the quality of the new TN panel, he went on to say:
"I saw this TN panel, they were doing a demonstration in Taipei," Clemente says, "and the picture quality is probably better than IPS. It's not quantum dot, you can't put that on TN, but the quality was really reminiscent of quantum dot. The market has never seen a TN panel with this colour quality. Viewing angles are TN viewing angles, but you don't care about that."
It is also possible that one or both of these models use a motion blur reduction (strobe backlight) technology, with the purported 0.5ms being MPRT (Moving Picture Response Time) instead of GtG response; with a strobe backlight hiding GtG (high speed video), the panel can legitimately have a MPRT response faster than the GtG response.
Regardless of MPRT response or GtG response, if a 0.5ms response time can truly be achieved on these new panels with adequate brightness (and if paired with solid overdrive implementation), the results will be interesting to see.