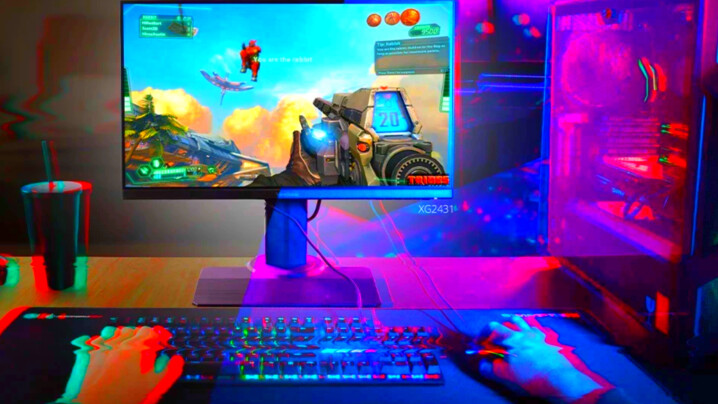 Today, on Black Friday 2021, lots of items are on sale now at Amazon, including multiple gaming monitors
ViewSonic XG2431 Finally in Stock on Black Friday 2021!
What makes this Black Friday particularly special for Blur Busters is that ViewSonic XG2431 gaming monitors are currently in stock on Amazon USA for under $300.
Swipe Left
Display Model
Size
Resolution
Refresh
Rate
VRR
Tech
Motion Blur
Tech
24″
IPS
1920×1080
99% sRGB
240Hz
1ms IPS
G-SYNC 
& FreeSync
Yes
PureXP+
Blur Busters Approved 2.0 Programme
Earlier this year, we announced ViewSonic XG2431's is the world's first monitor to gain Blur Busters Approved 2.0 Certification from our new motion blur reduction tuning programme. We factory-tuned ViewSonic XG2431 monitors to achieve among the world's best motion blur reduction for an LCD, even better than the previous gold standard, NVIDIA ULMB
Blur Busters Approved 2.0 monitors are among the most CRT-motion-clarity desktop LCDs ever invented. In addition to pre-installed high quality strobe modes built into the monitor (strobing now even supports cable TV boxes and non-PC video sources), the ViewSonic monitor supports the optional ViewSonic Strobe Utility to allows advanced end users to get better-than-factory strobe tuning.
It can do any CRT-motion-clarity refresh rate in 0.001Hz increments from ~59 Hz through ~241 Hz, and even supports Quick Frame Transport (QFT) tweaks. This allows some refresh rates to gain perfect zero-crosstalk operation with lower-lag-than-factory strobing completely free of double image effects. With a truly multisync strobe, you are not stuck to presets like only 120Hz. End-user strobe tuning is now easier than using a colorimeter via an easy step-by-step guide.


Massive Parts Shortages And Container Ship Congestion Hit XG2431 Hard
The same electronics parts shortages that impacted GPU manufacturing and car manufacturing, also impacted the 23.8″ Innolux panels inside ViewSonic XG2431 monitors. The panels and the special chips used by them (scaler/TCON) were hit extremely hard by semiconductor fabrication shortages, as well as the pandemic. To put salt in wounds, there were container ship shipping problems worldwide.
This impacted the ability to accelerate shipping of Blur Busters Apprroved 2.0, until Amazon USA got a large container shipment on time for Black Friday. Currently, monitor is not yet available in Europe. However, you can still order overseas shipping from Amazon USA if you're looking for the most CRT-like LCD motion blur reduction modes.
Rave Reviews for Blur Busters Approved 2.0
The Blur Busters Discussion Forums has posted several rave reviews of the ViewSonic XG2431:
Sun Nov 21, 2021 7:23 am

Further impressions… I'm still loving this monitor. I can safely say that it is the best monitor I've ever owned. The motion quality is exceptional and very customizable. As others have reported, 60Hz up through about 120Hz is perceptually crosstalk free while using large vertical totals. Which is amazing. CRT motion-clarity without noticeable artifacts is finally here!
Update: Blur Busters is also looking to hire a part-time guest writer, to restart daily/weekly news on the cover page for all better-than-60-Hz monitor technologies. Chief Blur Buster Mark Rejhon is too busy helping manuafcturs improve monitor technologies and we need a Blur Busters superfan to step up to the plate to write news for our media department!
Swipe Left
Display Model
Size
Resolution
Refresh
Rate
VRR
Tech
Motion Blur
Tech
24″
IPS
1920×1080
99% sRGB
240Hz
1ms IPS
G-SYNC 
& FreeSync
Yes
PureXP+