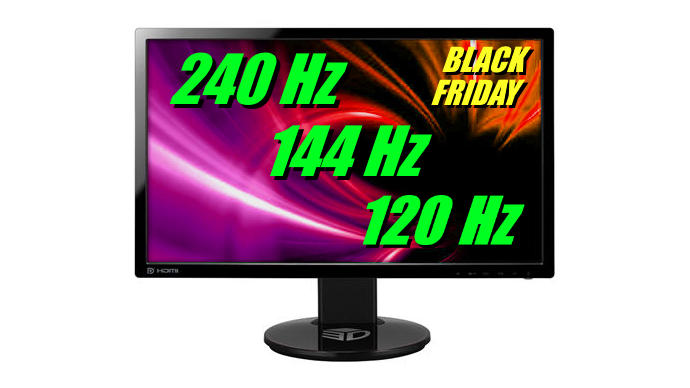 Every year, there are always Black Friday deals, and everyone is shopping for the best high refresh rate gaming monitor. We find them so you can speed up your research. If your goal is to save a large amount on a monitor, we've found some big deals!
For bigger monitor lists, see: FreeSync List G-SYNC List Ultrawide List
Note: Purchases made through these Amazon links pays a commission to Blur Busters
144 Hz Gaming for Under $120
AOC C24G1 is a 24″ 1080p FreeSync gaming monitor with 144 Hz with a 1ms MPRT motion blur reduction mode. At less than a dollar per hertz.
$115 on Amazon
240Hz Gaming for Under $220
Acer XF250Q is a 24.5″ 1080p TN gaming monitor with a 240 Hz refresh rate and FreeSync. That's under a dollar per hertz.
$219 on Amazon
4K FreeSync for Under $300
LG 32UD60-B is a 32 inch monitor with 3840×2160 resolution and has FreeSync with a 60 Hz refresh rate.
$299 on Amazon – Save $159
200 Hz Ultrawide Under $240
Sceptre 30-inch monitor is ultra wide with 2560×1600 resolution and has FreeSync at 144 Hz overclockable to 200 Hz refresh rate
$230 on Amazon – Save $69
FreeSync 2 at 1440p for Under $400
Samsung C27HG70 is a 27″ 1440p gaming monitor running at a 144 Hz refresh rate. It has FreeSync 2 with HDR with a quantum dot LED backlight, and is an excellent XBox One gaming monitor as well as for PC gaming. As a bonus also includes a motion blur reduction mode too!
$399 on Amazon – Save $200
Premium IPS Ultra Wide for Under $600
LG 34UC98 is a 34″ IPS ultra wide gaming monitor with a 21:9 aspect ratio with a Thunderbolt connection. While the refresh rate is only 60 Hz, the resolution is a whopping 3440×1440, great for graphics and video use.
$599 on Amazon – SAVE $300
Other Black Friday Deals
There are many other black friday deals currently ongoing on many models of gaming monitors on Amazon. Pick a deal that you may prefer to search for.
Deals on Amazon: 144 Hz 165 Hz 240 Hz G-SYNC FreeSync Ultrawide