Today, VESA just announced the new DisplayPort 2.0, a new video cable standard for displays.
The new DisplayPort standard can push over 77 gigabits per second over a Thunderbolt 3 cable.
SAN JOSE, Calif., June 26, 2019 /PRNewswire/ — The Video Electronics Standards Association (VESA®) today announced that it has released version 2.0 of the DisplayPort™ (DP) audio/video standard. DP 2.0 is the first major update to the DisplayPort standard since March 2016, and provides up to a 3X increase in data bandwidth performance compared to the previous version of DisplayPort (DP 1.4a), as well as new capabilities to address the future performance requirements of traditional displays. These include beyond 8K resolutions, higher refresh rates and high dynamic range (HDR) support at higher resolutions, improved support for multiple display configurations, as well as improved user experience with augmented/virtual reality (AR/VR) displays, including support for 4K-and-beyond VR resolutions.
PR News Wire
As refresh rates and resolutions go up, faster video cable standards are required — especially gaming PCs and virtual reality demanding higher resolutions and refresh rates — far more bandwidth is required.
This is a giant leap of being 3x faster than the previous DisplayPort 1.4 standard, allowing 77.37 gigabits per second of data over a single cable, while being backwards compatible.
If Using SDR or Display Stream Compression (DSC), 1000 Hz Is Possible!
DisplayPort 2.0 has enough bandwidth to handle really high refresh rates while being able to keep HDR. As we have been monitoring the refresh rate race to future retina refresh rates, the bandwidth of 77 gigabits per second now makes it possible to achieve 1000 Hz at 1080p, as long as HDR is not used.
1080p 1000 Hz SDR
1080p 1000 Hz HDR with Display Stream Compression
1440p 1000 Hz SDR with Display Stream Compression
There is no technical refresh rate limitation on DisplayPort, and is simply limited by bandwidth. Refresh rate is handled by the display and signal sources such as the GPU.
Full 4:4:4 Uncompressed HDR At High Refresh Rates
In addition, DisplayPort 2.0 provides very high refresh rates with uncompressed HDR at full 4:4:4 precision.
8K 60 Hz HDR uncompressed
4K 144 Hz HDR uncompressed
1440p >240 Hz HDR uncompressed
1080p >512 Hz HDR uncompressed
DisplayPort 3 Piggybacks on USB-C and Thunderbolt 3 Signalling Standards
VESA avoided reinventing the wheel and utilized the signalling standard that is now being used with both USB-C and Thunderbolt 3 standard. AnandTech covers this aspect in further detail.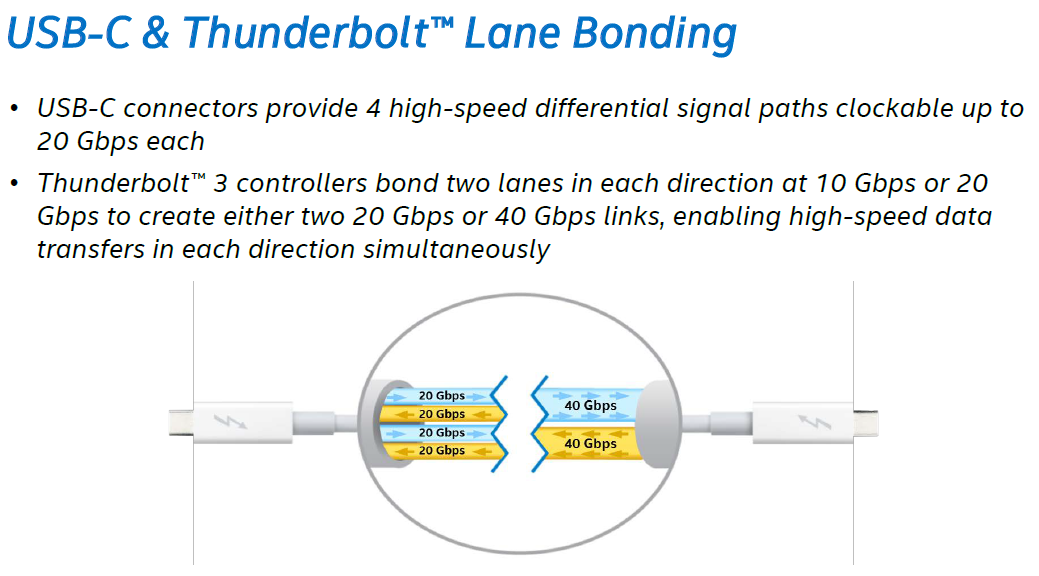 Video Cables And Refresh Rates Adopts Moore's Law Characteristics
Over the last several years, the bandwidth of video cables have been increasing at a rapid pace, propelled by both the retina resolution race, and refresh rate race.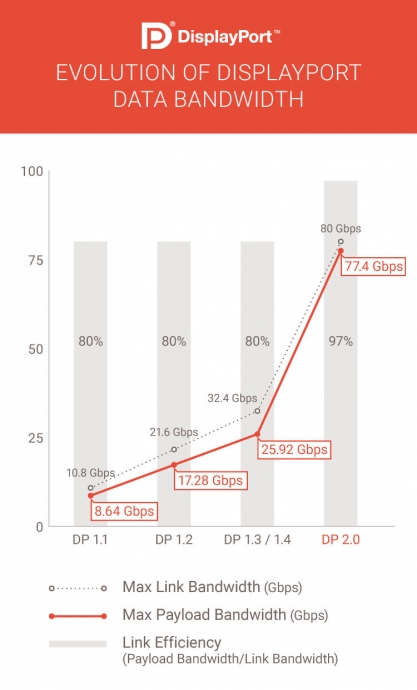 Also, ever since the discovery that 1000 Hz still has human visible benefits, the display refresh rate race continues as well. In this refresh rate race, retail-available refresh rates in gaming displays have been doubling Hz approximately every 5 to 10 years since the beginning of this millennium.
First true retail 120 Hz arrived in 2009 with the ASUS VG236H and Samsung 2233rz and others.
First true retail 240 Hz arrived in 2016 beginning with the AOC AF251FZ and others.
Currently, 480 Hz is currently in the experimental stage.
The bandwidth of uncompressed 8K 60Hz and 1080p 1000Hz is virtually identical:
8K 60 Hz = about 2 billion pixels per second
1080p 1000 Hz = about 2 billion pixels per second
It may may take roughly a decade before retail 1000 Hz gaming monitors becomes available. Nonetheless, we are excited at seeing the video cable weak link being solved with DisplayPort 2.0!