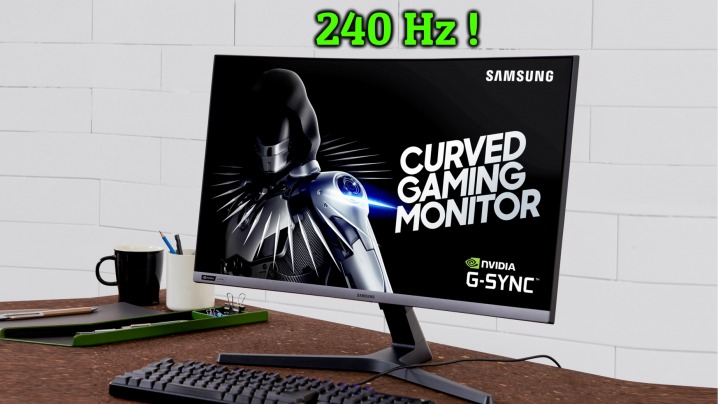 At E3 2019 gaming convention, Samsung announced their first-ever 240 Hz gaming monitor. This is a very different 240 Hz dispkay than usual.
A Curved VA Panel With Improved Contrast Ratios
An eye-catcher is that this is a curved VA panel with 3000:1 contrast ratio, a first achievement for a 240 Hz gaming monitor.
This brings bright colors and better contrast tratios to a 240 Hz monitor, the colors can be preferred over a TN panel for many players, including more casual players who would love less motion blur on a VA.
Historically, VA LCD panels have been long known with ghosting issues in dark colors. On the other hand, high refresh rates can compensate for this.
240 Hz VA Panel

1920×1080 Resolution

1500R Curvature
4ms GtG Pixel Response
Almost No Bezels
NVIDIA Validated as G-SYNC Compatible
This is the first time any manufacturer released a curved 240Hz, as well. Samsung has made relatively good VA-panel gaming monitors including the Samsung CHG70 series.
G-SYNC Compatible, And Works With FreeSync Too!
This monitor has added variable refresh rate support via the VESA Adaptive Sync standard. Samsung got this monitor certified by NVIDIA on time for E3. As a result, it is being marketed with  "G-SYNC Compatible" branding.
Fortunately, VESA Adaptive-Sync is compatible with AMD graphics for FreeSync; it appears that Samsung may not yet have certified this monitor with AMD to be allowed to use the "FreeSync" branding label (yet?).
However, this monitor works with both NVIDIA and AMD brands of variable refresh rate (G-SYNC Compatible and FreeSync respectively) because this is a generic VESA Adaptive-Sync implementation. This typically gains the "FreeSync" marketing label (if certified by AMD) and/or the "G-SYNC Compatible" marketing label (if certified by NVIDIA). An interesting variable refresh rate marketing situation!
Exact Model Name Is C27RG50
Several sites including Verge, C|Net, and Digital Trends mention this monitor as the CRG5. However, the CRG is a series designation. The official model number is actually C27RG50.
A Samsung CRG5 series already exists as a 144 Hz monitor. This new 240 Hz monitor is essentially the 27″ 240Hz equivalent of the existing 144 Hz C24RG5.
Historically, Samsung inserts the size in the model name of the series, for example, the Samsung CHG series includes the Samsung CHG70 and CHG90 sub-series, which then branches out to the C27HG70 and the C32HG70, plus the ultrawide C49HG90.
Improving 240Hz Color
Historically, TN is the king of pixel response time. However, we are glad that VA panels are speeding up with faster refresh rates. There are huge numbers of gamers who prefer to enjoy better colors during gaming,
This monitor arrives in July 2019.