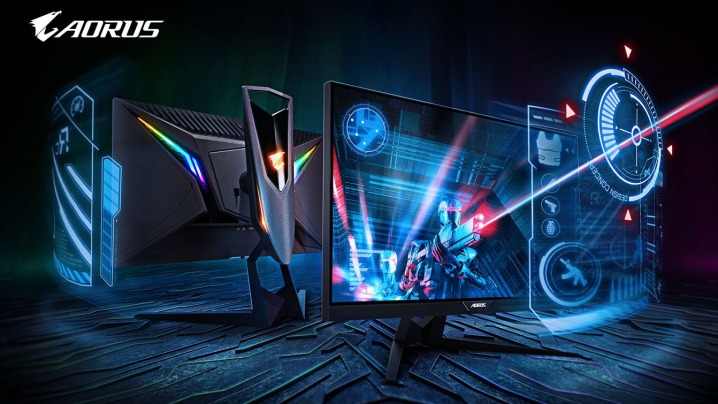 Gigabyte Technology, has launched the AORUS KD25F Tactical Monitor, which is a 24.5″ 240Hz TN 1080p gaming monitor.
8-Bit TN Panel With 0.5ms MPRT
It is a TN panel with 100% sRGB and 8-bit color, which make it stand out from other 6-bit TN panels that do not have full color gamut. Response time is 0.5ms MPRT. GtG response time is currently unknown, however, Blur Busters strongly encourages manufacturers to quote both of two pixel response benchmarks, GtG and MPRT.
Officially FreeSync Certified
and

G-SYNC Compatible Certified

Interestingly, it is officially certified by both AMD and NVIDIA with official AMD FreeSync Certification, and also NVIDIA GSYNC Compatible Certification. This is NVIDIA's new certification approval process for FreeSync monitors that do not contain the G-SYNC module.
Almost 95% of FreeSync monitors fail NVIDIA's new certification procedures, so getting certification before launching creates an interesting situation where Gigabyte ends up becoming permitted to use logos from both when marking their monitor!
Unofficially, you can use "G-SYNC Compatible" mode with virtually any FreeSync monitor, but that's without blessing of NVIDIA, and quality is lower than an NVIDIA-certified monitor or FreeSync2-certified monitor.
Mouse-Controlled OSD Design
OSD have become fancy airplane cockpits, so AORUS had to get creative here to keep it easy.
To help more easily navigate the OSD, AORUS has added mouse/keyboard control to their OSD. You can still select monitor menus via the monitor's standard 4-way controller, but now you can simply use your computer mouse too.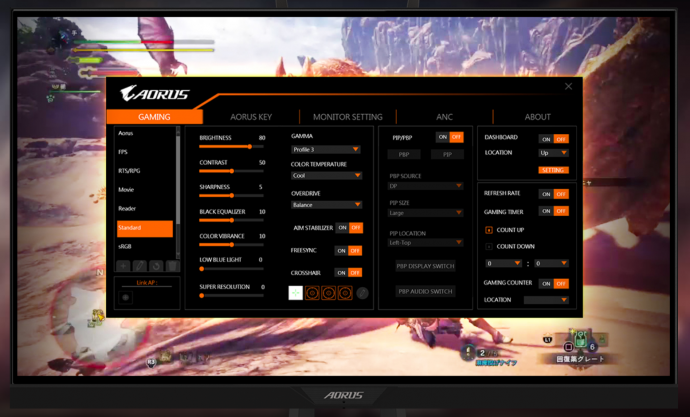 AORUS calls their strobe-backlight-based motion blur reduction mode, the Aim Stabilizer mode. This is a different naming nomenclature than other manufacturers (e.g. LightBoost, ULMB, ELMB, DyAc, etc).
Marketed as a Tactical Monitor
To help market their new 240Hz gaming monitor, Gigabyte has decided to market the AORUS KD25F 240 Hz display the "World's 1st Tactical Monitor". This is a package of many features that converge to an improved tactical advantage in FPS games, including Counterstrike:Global Offensive, Fortnite, and many others.
Many similar features are already in many new models of gaming monitors. However, what AORUS has done differently is to create essentially a massive control panel in place of their normal monitor OSD. Essentially, a much more detailed OSD — like the cockpit or dashboard of tactical vehicles — which is made practical and easier by mouse-enabling their OSD.
We're looking forward to continued innovation by manufacturers in the 240Hz (and up) territory!