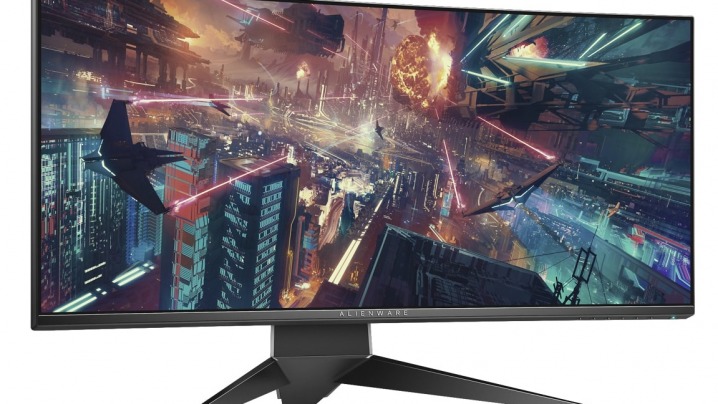 Dell released its Alienware AW3418DW monitor today in the US for $1,499. The AW3418DW features an ultrawide 34″ IPS panel with a 1900R curvature, 3440×1440 resolution, 100Hz refresh rate (overclockable to 120Hz), and G-SYNC Support.
The second model, the Alienware AW3418HW, will feature a 34″ IPS panel with a 3800R curvature, 2560×1080 resolution, 144Hz refresh rate (overclockable to 165Hz), and G-SYNC support. It will be released in the US later this fall for $1,199.
Both models will be added to our Monitor List, and product links will be included here when available.
Dell Press Release:
Dell is offering two new Alienware 34-inch curved monitors with an iconic design built for performance gaming with a wider viewing area to see opponents coming from all sides and custom AlienFX lighting across four lighting zones in more than 150 PC game titles. Curved for greater game immersion, with ultrathin bezels, they deliver maximum field of view and sharper, clearer graphics. Both driven by NVIDIA G-SYNC, the Alienware 34 Curved Gaming Monitor (AW3418DW) supports WQHD (3440 x 1440) resolution with a 120Hz refresh rate, and the Alienware 34 Curved Gaming Monitor (AW3418HW) supports WFHD (2560 x 1080) resolution with a 160Hz refresh rate. Both monitors feature a lightning-fast overclocked refresh rate, combined with 4ms response time, delivering ultra-smooth gameplay. Available Aug 30 in the US for AW3418DW starting at $1,499 and late fall for AW3418HW starting at $1,199.
(source)