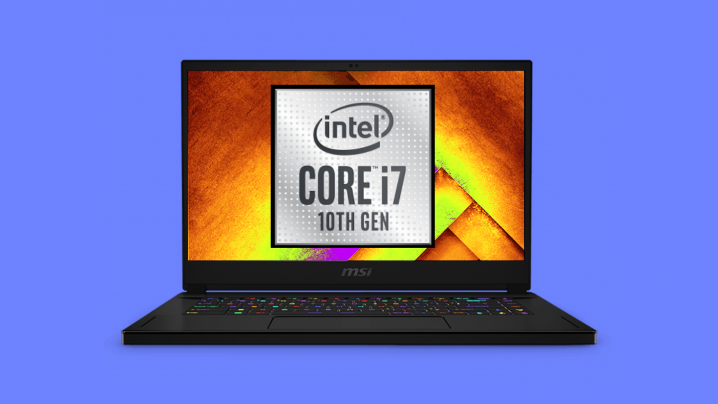 Intel has been talking a lot about the new 10th-generation H-series CPUs, crossing the 5GHz barrier at a price that doesn't break-the-bank. Three major gaming brands have announced their new 10th series gaming laptops with high-frequency monitors, and all of them aim to push mobile gaming to the limits.
MSI's GS66 Stealth and GE66 Raider
MSI's new GS66 Stealth and the GE66 Raider come with the option of either the i7 10750H or the i9 10980HK. While there are plenty of customizable options, both have 15.6-inch screens and can range from anywhere between 144 Hz and 300 Hz on each. The Stealth models come with IPS panels too.
Should you not be too interested in the 10th-Generation gaming lineup, there's a Creator 17 too, which features the i7-10875H. This monitor is more focused on content-creators and features a 17.3-inch screen available in 1920×1080 at 144 Hz or a 3840×2160 screen at 60 Hz.
ASUS ROG Zephyrus Duo15, Zephyrus S, M, G and More!
Visiting ASUS' Official ROG Laptop Site will show just how much ASUS has invested into the ROG brand and the 10th generation chips too. There are just so many different models to cover, it's difficult to sort which ones are for what kind of gamer, but you'll find some differences and details below.
The ROG Strix G17 and G15 come in a variety of models and offer both i7 and i5 10th-generation processors. The G17, as you'd expect, comes with a 17.3-inch IPS screen with anywhere from 120 Hz to 240 Hz. The G15 is a 15.6-inch IPS screen with 144 Hz and 240 Hz to choose from.
The ROG Strix SCAR 15/17 are higher end, esports models with processors and graphics cards to boot. As the names imply, the SCAR 15 is a 15.6-inch, while the SCAR 17 is a 17.3-inch, but both screens are at 1920×1080 on IPS panels and go up to a 300 Hz refresh rate.
ASUS ROG's Zephyrus range is a big one and consists of the M15, the Duo 15, the S15 and the S17. Both the S15 and S17 are ultra-slim laptops with a focus on gaming. They only come with i7 processors and both go up to 300 Hz on their IPS 1920×1080 screens.
Keeping the range with ultra-slim, the M15 is an i7 range with more of a 4K gaming focus, as there's a 3840×2160 IPS screen attached to some models. While these only run at 60 Hz on a 15.6-inch screen, there's also a 1080p 240 Hz and 144 Hz range too.
Last but not least, the ASUS Rog Zephyrus Duo 15 is a 15.6-inch 4K IPS panel at 60 Hz, or a 1920×1080 screen at 300 Hz. Both of them have 14.1-inch touchscreens too.
Gigabyte Aero and AORUS 17X, 17G and 15G
For gamers and the general consumer alike, Gigabyte has launched into new models with the 10th-gen Intel chip and will have Aero 15 and Aero 17 laptops, with the flagship being the Aero 17 HDR. On the gaming side of things, the AORUS 17X, 17G and 15G all feature 240 Hz displays with the new i7 or i9 10th generation chips and are all available to buy right now, expected to ship by the middle of April.