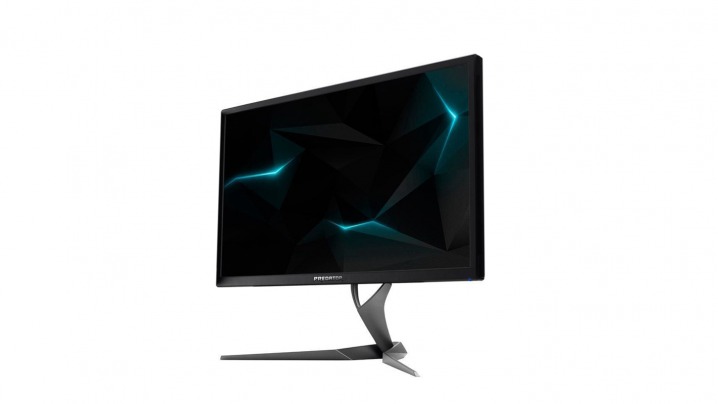 Note: Pictured monitor is the probable appearance, since it is the 170 Hz GP version instead of the GX: Acer Predator XB323U GP
According to a very astute Blur Busters user, pointed out on Twitter, NVIDIA has detailed a new 32-inch 1440p monitor coming from Acer known as the XB323U GX.

This monitor is supposedly something that is still on the way, and perhaps a big brother to the Acer Predator XB323U, but with a little bit more added to it, a GX. The XB323U was first detailed back in April on Taobao, so it seems rather interesting these two monitors being so close in specification.
The Acer Predator XB323U GX, according to NVIDIA's monitor list on its product page, is a 32-inch IPS monitor with a QHD resolution of 2560×1440. It also supports NVIDIA G-SYNC Compatibility, and the only difference as far as we can see is that the monitor goes up to 240Hz, compared to the non-GX version, which only reaches up to 170Hz. There's no other information on the monitor as of yet, and NVIDIA mentioned that the driver needed for that particular monitor is an "Upcoming Driver".
We would also go so far as to assume that the monitor measures up in terms of having height, tilt, and swivel adjustments, with what we can believe to be a response time of 1ms GtG, purely based on other GX models.
While most esports players enjoy 24 inch monitors, a large number of our users have also been demanding 27 inch and 32 inch monitors, especially those with vision issues that benefit from larger screens.
Beyond esports, there is also a slowly emerging mainstream need of of 240 Hz for ergonomic vision purposes, since web browser scrolling has 1/4th the motion blur of 60 Hz LCDs, which can benefit people who need to watch scrolling text / panning maps / high frame rate movement for work all day long.
Acer Predator XB323U GX
32-inch IPS Display
2560×1440 at 240Hz
NVIDIA G-SYNC Compatible