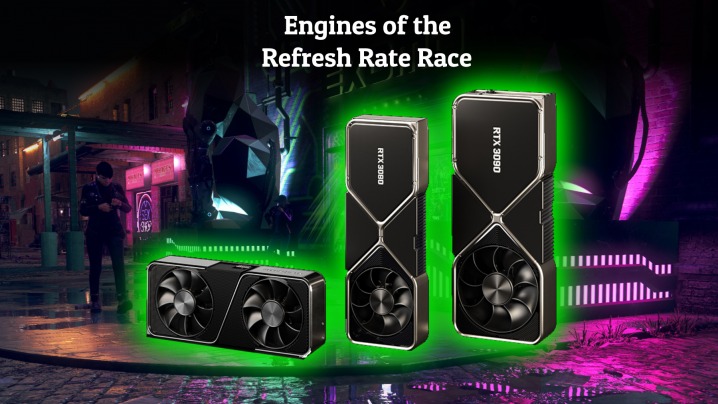 The long awaited RTX 3000 series of GeForce graphics cards by NVIDIA has now been unveiled to celebrate 21 years in graphics. Powerful engines are required in this refresh rate race to retina refresh rates, to power the "Better Than 60 Hz" world, so this has been quite eagerly anticipated by all of us!
Many tantalizing leaks trickled out in 2020, but today is the damburst of radioactive green deliciousness. It started off with talking about the added technologies, and ended in announcing three new graphics cards, unleashing incredible advances in immense GPU horsepower over previous cards..
NVIDIA's press release confirms that all the new cards will have HDMI 2.1, and support for the new AV1 codec All the cards have low-profile leaf springs along with the new 12-pin power connector, while still being compatible with the 8-pin connector for existing PC power supplies, with an included adapter.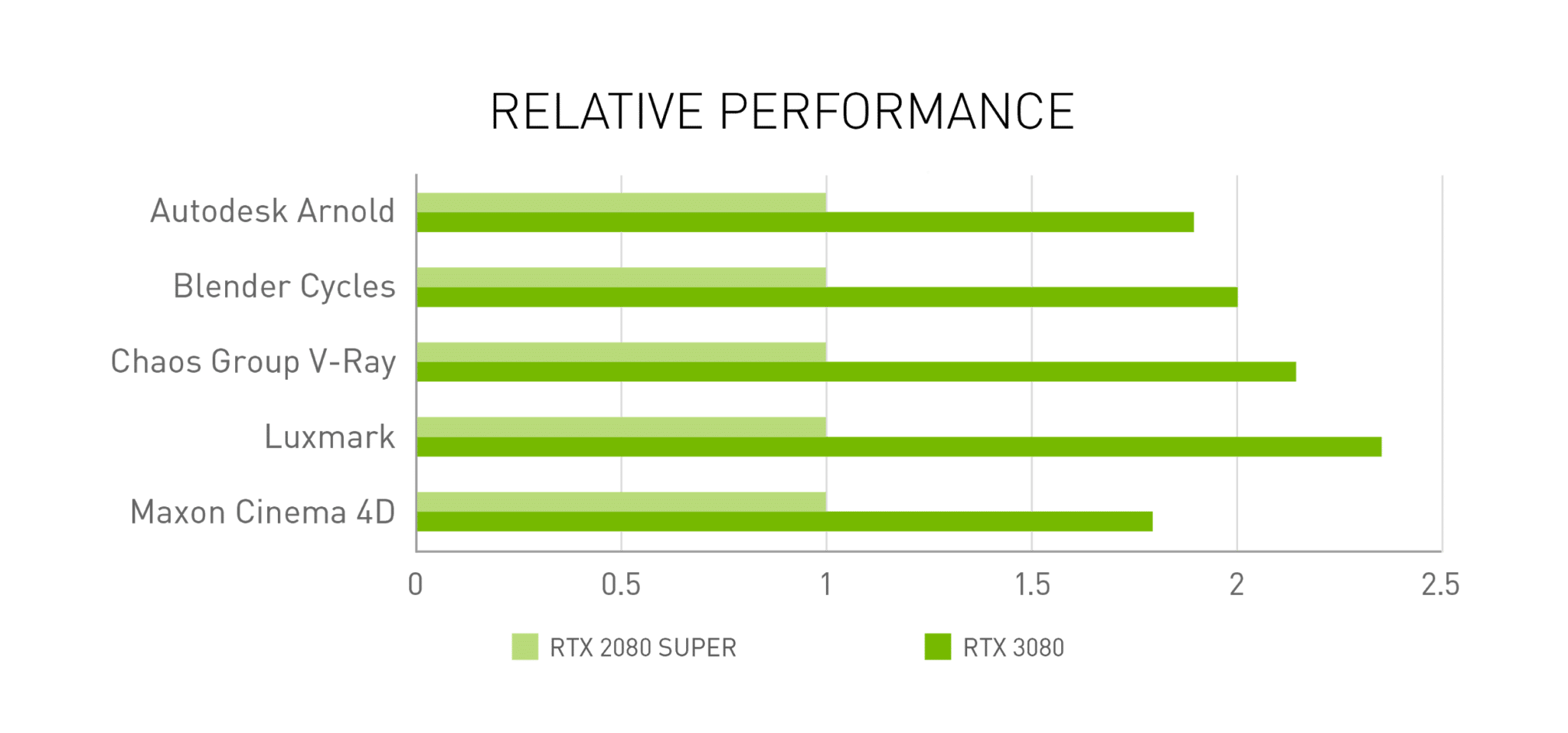 Highlights from today's Twitch livestream on September 1st, 2020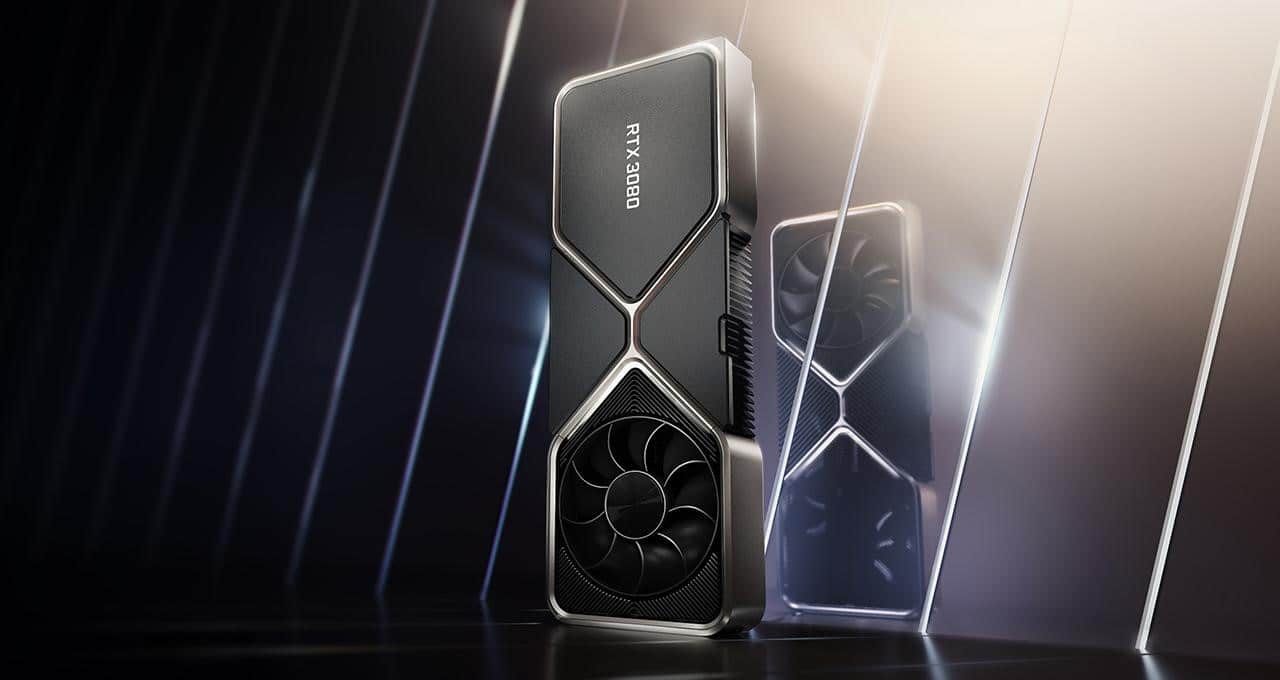 NVIDIA RTX 3070
NVIDIA's "budget" model is faster than the 2080 Ti. This one doesn't seem to have the fan display as the other card, having both on the same side, but we imagine it would work similarly. Here are the specifications:
20 TFLOPS Shader
40 TFLOPS Raytracing
163 TFLOPS Tensor
8 GB G6 RAM
Starting at $499
Available in October
NVIDIA RTX 3080
The RTX 3080 is the new flagship model and is touted as having twice the performance as the 2080. According to the generation leap graph on stream, this card is significantly better than anything else NVIDIA has pushed out, not just a generational improvement. Here are the specifications:
30 TFLOPS Shader
58 TFLOPS Ray Tracing
238 TFLOPS Tensor
10 GB G6X RAM
Starting at $699
Available September 17th, 2020
NVIDIA RTX 3090
This absolute monster of a card looks like the size of a brick. NVIDIA is calling this one the "BFGPU". During the stream, they showed off a video of a few streamers playing on an 8K screen at 60fps using the card. Here are the specifications:
36 TFLOPS Shader
69 TFLOPS Ray Tracing
285 TFLOPS Tensor
24 GB G6X RAM
Starting at $1499
Available from NVIDIA & Partners on September 24th, 2020
Fortnite with RTX
NVIDIA also announced that Fortnite will soon be benefitting from Ray Tracing and DLSS too, giving the game ultimately more shine, and added benefits of improved shadows and reflections.
New Cooling System
What's interesting about the new 3000 series is that it looks completely different to the previous model, having one fan on either side of the card. The revolutionary thermal design allows for 55% more airflow than before, has an increase of 30% efficiency and is up to 3x quieter, according to the announcement. There are independent push and pull fans with the bracket exhausting front fan and a flow-through rear fan.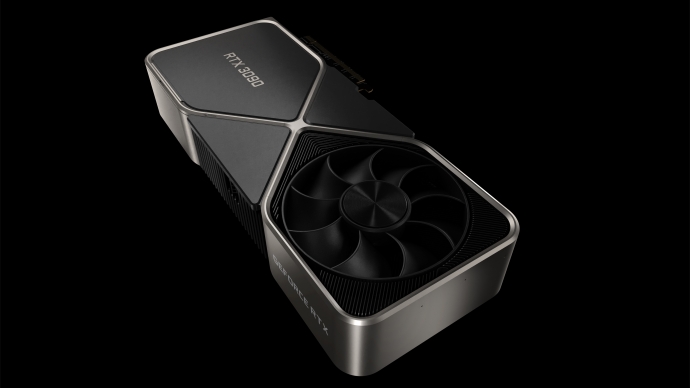 RTX IO
Another neat feature with RTX IO is something that will enable rapid GPU-based loading. Working in conjunction with Microsoft's new DirectStorage for Windows API, the RTX IO will allow for asset decompression at a rapid speed, accelerating the input and output performance of up to 100x when compared with traditional hard drives.
FRAME RATE AMPLIFICATION WITH DLSS 2.0
As with earlier RTX graphics cards, DLSS is a frame rate amplification technology that can generate more frame rate at better graphics detail with less GPU rendering time.
On the RTX 3080 series, frame rate amplification ratios can reach almost 3:1 in certain games such as Control or Minecraft RTX, as NVIDIA continues to innovate on impressive frame rate amplification ratios.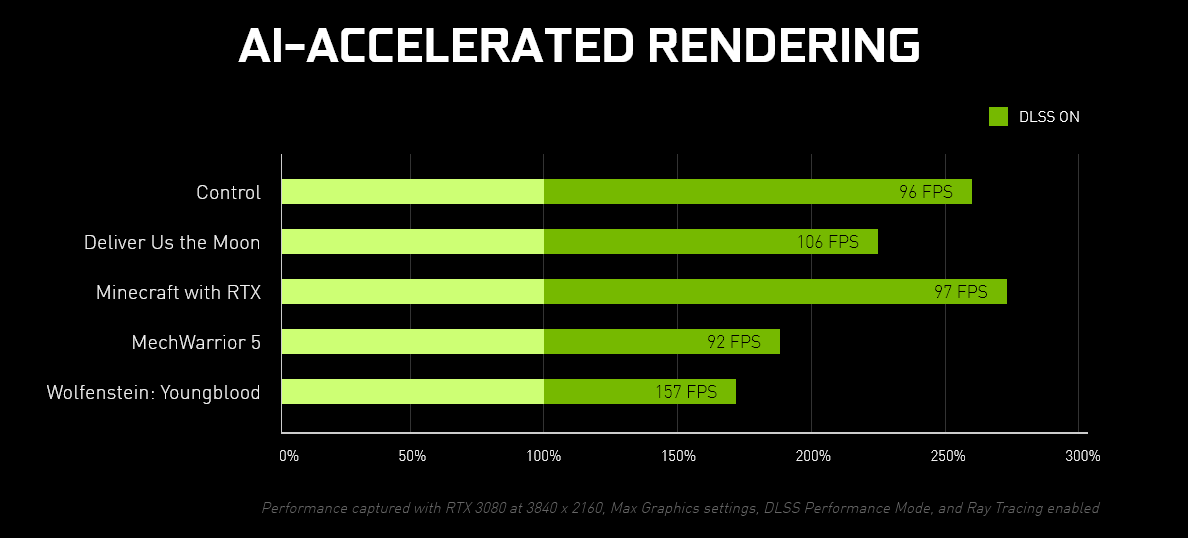 RTX Reflex
Reflex is yet another piece of tech that will optimize the rendering pipeline for NVIDIA as it can reduce latency by up to 50%. This focus will be directly geared towards esports player and will work across a multitude of NVIDIA cards. A Forbes.com article explains RTX Reflex in greater detail, with an image.
This is intended to reduce system latency so that when players see something passing by in a few milleseconds, they actively be able to see it better and more clearly as it passes, reducing the time between when it happened and when the player sees it.
NVIDIA Streaming Tools – NVIDIA Broadcast
Finally, NVIDIA Broadcast is another tool that will be rolling out with this series as streamers will get the chance to have RTX-accelerated AI to help improve broadcasts. This includes RTX Voice, something that can remove background noise, as demonstrated in the stream, completely cutting out a blowdryer sound behind the stream. And, Broadcast, tracking a live streamer with the camera, but also allowing background blur or giving you a green screen effect without actually having a green screen.
We are excited to see NVIDIA's latest GPUs arrive, to help push the refresh rate race to retina refresh rates!