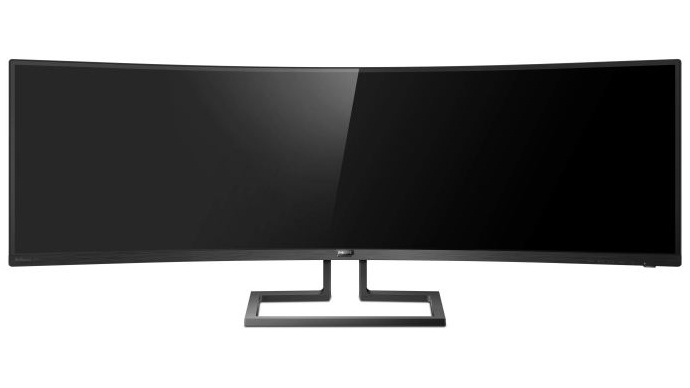 Philips has gone and jumped into the new 32:9 monitor bandwagon, offering us two new ultra-ultra-wide 49-inch monitors. How about that?
But why, you ask? Well, 32:9 is simpler and cleaner-looking than buying two 16:9 monitors, for work-related scenarios, enabling a bezel-free layout while also saving gamers the expense of a triple-monitor configuration.
Most of the time, say, in an FPS or a racing game, you're staring to the front anyway. And we care most about games, right? Of course.
First up is the 492P8, with 3840 x 1080 while the 499P9H offers DQHD resolution, which stands for Dual Quad HD, or 5120 x 1440.
These both have VA panels so deliver perhaps 3000:1 – 5000:1 contrast ratio (wait for reviews to find out exact measurements, but a TV-sized panel is more likely to have 5000:1 than not). HDR support isn't mentioned by SDR quality should be quite decent with these contrast ratios and the steep 1800R curve to avoid off-axis colour shift.
Rounding out the business-centric nature of both of these initial offerings are USB Type-C ports, a pop-up webcam, and a GbE connector.
More gamer-friendly revisions offering AMD FreeSync are also in the works apparently, so stay tuned. Not much is known at this point whether they will support 120 Hz+ officially. However, they are using HDMI 2.0 and DisplayPort 1.2 which will permit 120 Hz at least on the 492P8.
No official prices are listed yet but availability is expected in early 2019.