Instructions for Zero Motion Blur on LightBoost LCD
HISTORY: These instructions, based on an original 2013 HOWTO, became extremely popular a decade ago. This HOWTO is still used today by users who still own these original monitors, as LightBoost was the first very popular desktop monitor motion blur reduction technology, and this HOWTO put Blur Busters on the map in 2013!
Supported LightBoost Monitors:
See Official List of Gaming Monitors. This is for LightBoost only. If you have another similar feature called ULMB (Ultra Low Motion Blur) or BENQ Blur Reduction, see Motion Blur Reduction FAQ.
LightBoost monitors have a strobe backlight feature that completely eliminate motion blur for 2D; for CRT-quality perfectly sharp fast motion on LCD.
There are rave reviews of LightBoost ("It's like a CRT") and media coverage including TFTCentral, ARS Technica, pcmonitors.info, NewEgg, and many others!
For scientific information on how LightBoost eliminates motion blur, see the LightBoost FAQ and high speed video of LightBoost, simulating a 120Hz CRT via a strobe backlight.
Editor's Note: As of 2017, there are new LightBoost clones.

There are new brand names such as NVIDIA "Ultra Low Motion Blur" (ULMB), EIZO "Turbo240", ASUS "Extreme Low Motion Blur" (ELMB), BenQ "Blur Reduction", BenQ/Zowie "Dynamic Acceleration" (DyAc), all with better picture quality. If you have not purchased a monitor yet, you may wish to consider a newer blur reduction technology in the Official List of Gaming Monitors.
Select preferred LightBoost instructions:
Other Tips
Adjust your LightBoost setting for very sharp-looking fast motion:
Adjust your "LightBoost" OSD setting via monitor menus or via ToastyX Strobelight. This adjusts strobe length. Use any value except "OFF". Lower values are dimmer but have sharper-looking fast motion. Higher values are brighter but have less clear-looking fast motion. The sharpest fast motion occurs at 10% but is very dim. 100% is bright and is good enough for most people. A good compromise setting is 50% in a darkened room. See PHOTOS: LightBoost 10% vs 50% vs 100% for a comparision of the settings.

Smooth Scrolling In Web Browser
Smooth scroll in web browsers: If you're using Chrome and web browsing, install Chromium Smooth Scroller to gain the benefits of sharp text scrolling with the mouse wheel. Make sure the steering wheel icon is enabled in your Chrome toolbar.
The Resulting Zero Motion Blur
What happens?
All trailing artifacts disappears!  Ghosting, coronas, etc.
All motion blur disappears!
No motion blur when you play video games, even during fast motion.
The zero motion blur effect will also occurs on the Windows desktop (e.g. window dragging, scrolling) if this LightBoost tweak is enabled in the Windows desktop.
How is it possible?
LightBoost is a programmable strobe backlight. The backlight is turned off while waiting for LCD to finish pixel transitions (unseen by human eyes), and the backlight is strobed only on fully-refreshed LCD frames (seen by human eyes). The strobes can be shorter than the panel's pixel transitions, bypassing the pixel transition speed limit!

This is seen in high speed 1000fps video:
Motion blur is determined by the length of time a refresh is displayed on the screen. In addition to increased Hz, this can be further improved by flicker (black periods between refreshes, like a CRT). See this motion blur comparison: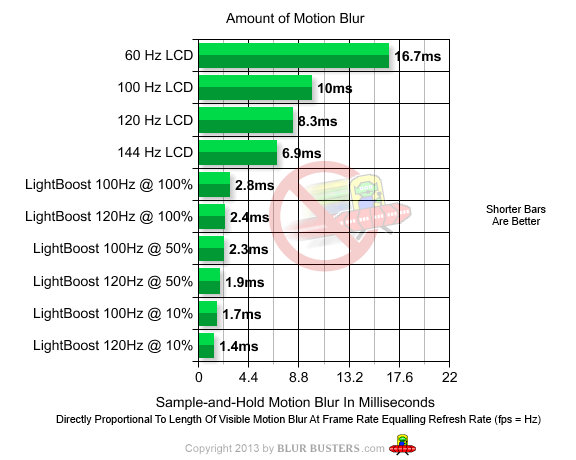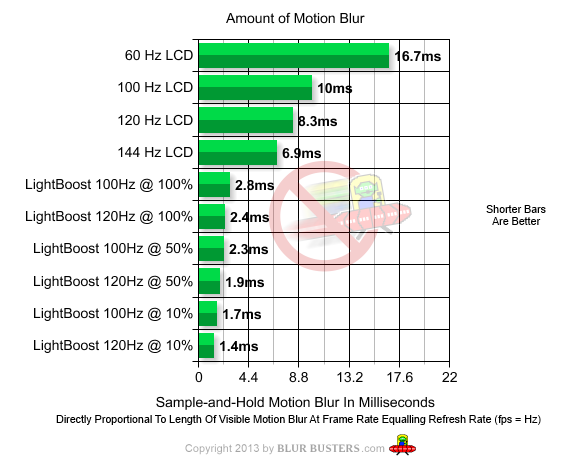 Some notes:
IMPORTANT: Optimus (laptops) is NOT supported.
Minor Side Effects: Different color, dimmer screen brightness, some flicker feel (if sensitive to CRT flicker). The LightBoost FAQ has picture adjustment tips.
LightBoost is hardware-limited to refresh rates between 100Hz and 120Hz.
For 144 Hz, LightBoost is turned off (automatically).  Fortunately, there's far less motion blur with 120 Hz LightBoost than with 144 Hz non-LightBoost.
You need framerate matching Hz for best LightBoost benefit.
(e.g. 100fps@100Hz or 120fps@120Hz)
The improved motion clarity can make tearing and stutters easier to see at higher framerates than normal. To compensate for this, upgrade your GPU for better fluidity, use a 1000Hz mouse for better fluidity, adjust game detail settings for better fluidity, and adjust VSYNC ON / OFF / Adaptive settings. In some situations, VSYNC ON (more lag) or Adaptive VSYNC (less lag) can make LightBoost motion smoother looking.
For answers to common questions, see the LightBoost FAQ.
CRT style gaming on LCD
LightBoost provides gaming with a CRT-like clarity, with zero motion blur — allowing complete immersion without being distracted by motion blur. Improved competitive gaming scores are possible thanks to a faster reaction time.  See improved Battlefield 3 statistics graphs.
A high end GPU is required (e.g. Geforce GTX 680, 780 or Titan) to frequently hit 120fps@120Hz most of the time to really notice the big improvement in motion clarity, with perfectly clear images even during fast turning and strafing. Also, it is necessary to disable the GPU artifical motion blur effects in video games, as that can ruin the LightBoost motion blur elimination. Also, some source-engine games needs their fps_max raised at the developer console, to play smooth.
For LightBoost help, feel free to ask your questions in the Blur Busters LightBoost Forum!
Supported LightBoost Monitors:
See Official List of Gaming Monitors. This is for LightBoost only. If you have another similar feature called ULMB (Ultra Low Motion Blur) or BENQ Blur Reduction, see Motion Blur Reduction FAQ.