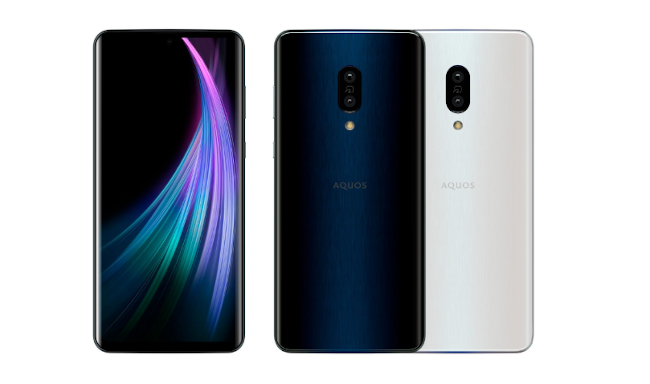 Sharp has announced the latest entry into the Aquos line of smartphones which represents a world first. The phone has a 6.4-inch curved OLED display running at 1080×2340 with a 240 Hz* refresh rate.
There is an asterik, though. Technically, it is actually a 120 Hz refresh rate with strobing (black frame insertion). Of course, this creates a display persistence of just 4.1ms (or less, since the black frame ratio is not necessarily 50%:50% as seen in this animation demo) — which makes it half the motion blur on 120 Hz smartphones including ASUS ROG Phone II that Blur Busters discussed not just two months back. This puts Sharp at the very top end of the smartphone world.
Sharp's flagship model weighs in at just 143 grams, and comes packing a punch with the Snapdragon 855 SoC chipset, which consists of an octa-core CPU and Adreno 640 GPU. It also has 8GB RAM and 256GB of UFS 3.0 storage, the latest iteration of Universal Flash Storage, featuring significantly faster read and write speeds.
"240 Hz" (Strobed 120 Hz): Get 1/4th Scrolling Motion Blur Of 60 Hz
The arrival of strobed 120 Hz in a phone is good for many reasons; the use of a strobed 120 Hz display in a smartphone, allows web pages to scroll with much less motion blur. This makes the Sharp smartphone screen one of the world's lowest-persistence smartphone screens as a result. Imagine nearly CRT motion clarity browser scrolling, where you can read text while scrolling!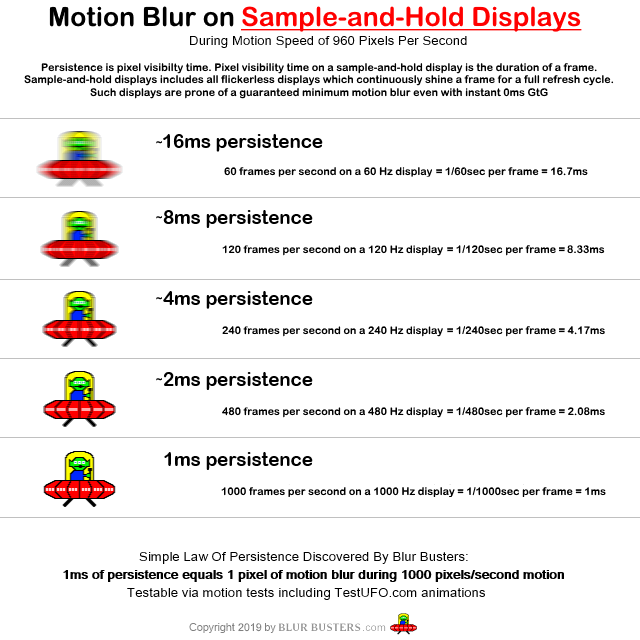 However, the phone display is impulsed (black frame insertion) to produce low persistence, so motion blur represents the following: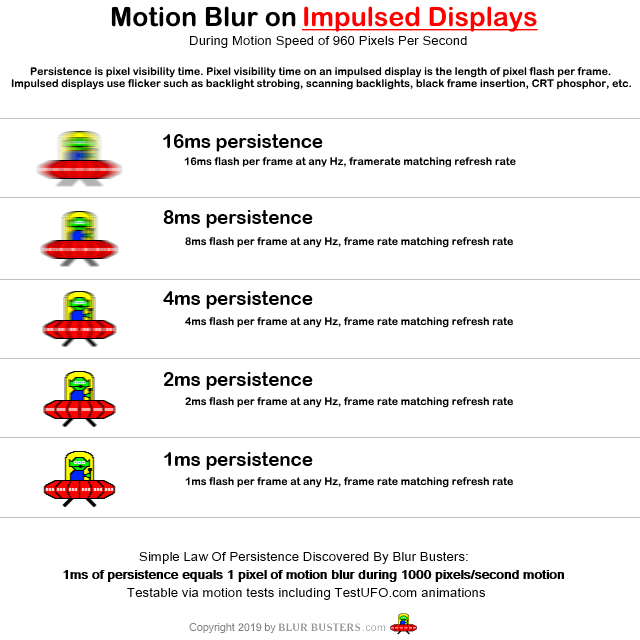 We welcome ultra high refresh rate screens in a smartphone especially as they are very useful for more than just video games.
More Specs
The Aquos Zero 2 has a dual-camera set up with a 12 MP F/1.7 aperture main and 20 MP F/2.4 ultrawide secondary camera, with an 8 MP front-facing camera. The device is IPX5, IPX8 and IP6X rated, protecting against dust and water, running on Android 10 fresh out the box and finally, comes with a 3,130 mAh battery.
It's expected to be available in December, coming in Astro Black and Misty White. There's no word on price yet, but that should come to light in the next couple of weeks.
6.4-inch OLED Display
240 Hz at 1080×2340
Snapdragon 855 SoC
8GB RAM
256GB UFS 3.0 Storage