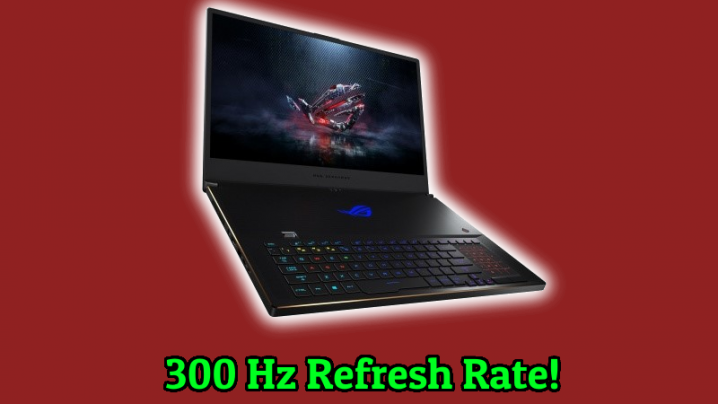 ASUS today showcased its new 300Hz refresh rates in the Zephyrus S and Strix laptop models. This panel is quite a leap forward for laptops as traditional refresh rates on laptops are usually 60Hz, with a select few gaming models going up to the 120Hz, 144Hz and 240Hz mark.
300 Hz Refresh Rate!
ASUS has stated that these panels are designed to reduce stutter and has a 3.3ms time to draw each new frame at 300Hz, nearly as fast as the 3ms response time that the laptop boasts. The ROG Zephyrus S GX701 is the first laptop that will benefit from the 300Hz panel, and it is available with the right kind of hardware to make use it.
Scheduled for release in October, the GX701 is a 17", that will also come in a 15" GX502, both with Pantone-calibrated displays. The Strix Scar III laptops also come in the same screen size variant and will house the same panels too.
AnandTech attended the launch and photographed a few slides of ASUS' presentation:
The flagship model in the Zephyrus range will come with an NVIDIA RTX 2080 clocked up to 1230MHz, while the lower-end models will come equipped with NVIDIA 2070 GPUs. Both are supposed to be housing Intel Core i7 9750H processors with up to 32GB of DDR RAM, and solid-state NVMe storage.
This is great progress. That said, it is also important to know that for easily human-visible differences — the diminishing curve of returns is geometric. It is necessary to approximately double refresh rates (120 Hz -> 240 Hz -> 480 Hz -> 960 Hz) for more easily visible differences — See Blur Busters Law And The Amazing Journey To Future 1000 Hz Displays. Understandably, it will take time before technology progress allows mainstream refresh rates to go sufficiently beyond 240 Hz to produce hugely noticeable benefits.
Nontheless, we are fantastically glad that the 240 Hz barrier has been broken in a mainstream brand!