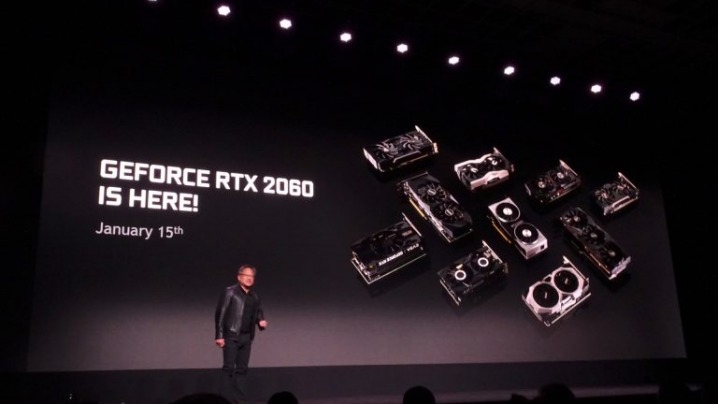 NVIDIA's second big CES 2019 news is that their new budget RTX model, the RTX 2060, is coming out on January 15th at a very affordable 349$ USD. Hurrah, RTX for the masses, finally.
This mid-range card,  clocked at 1680 MHz, has a respectable 6GB of GDDR6 VRAM and should be able to maintain 60 FPS in Battlefield V at 1440p, according to NVIDIA's jacket-wearing CEO, Jensen Huang.
On average, RTX 2060 is expected to outperform the previous-gen Pascal GTX 1060 by up to a factor of two and also beats the GTX 1070 Ti according to PC Gamer and is close to GTX 1080 in terms of performance, especially when overclocked. Not bad at all!
Of course, the big draw to these cards is the new ray tracing functionality, which only Turing GPUs offer leaving Pascal in the dust, and this is without without costing any traditional rasterization performance when enabled either, due to exploiting dedicated RT Cores for this end. Additionally, machine learning-based AA called DLSS offers a big image quality upgrade and boosts performance at the same time. What's not to like?
Depending on which card is purchased, you either get a choice between two RTX-enabled games, or both of them, in the bundle: Battlefield V and/or the as-yet-unreleased Anthem: