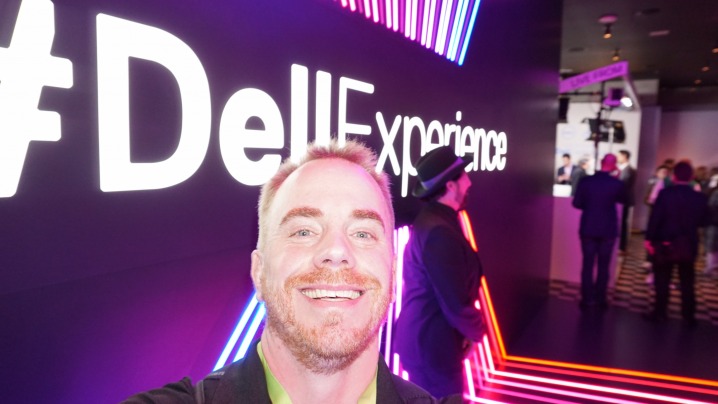 In all the fun of Area 51 puns, both Blur Busters UFO logo and Dell's Alienware is inspired by the mystique of the famous Roswell UFO.
At CES 2019 in Las Vegas, where Alienware has an almost "Area 51 secret" style exhibit location at The Venetian hotel, hidden far away from the main convention exhibit hall in another galaxy…
4K 120Hz FreeSync Beauty In New Alienware OLED
I visited Dell Alienware and their quite dazzling new equipment including their 4K 120Hz variable refresh rate OLED – a full 55 inches of beauty.
They confirmed it will support VRR, so we now have multiple OLEDs that are FreeSync compatible! (NVIDIA may soon be kidnapped to Area 51 to persuade them to declare them "G-SYNC Compatible" or else).
As we already know, OLED is capable of extremely deep blacks with really great color quality – it is totally a dream for haters of TN LCDs. Have cake and eat it too, in fast pixel response AND great colors. Hopefully it will also include black frame insertion to eliminate OLED motion blur.
240 Hz Laptop Is Here Too!
There were sweet gaming laptops on display too as well, including the DELL G17 laptop, a 15″ 144Hz laptop that appeared to have excellent color quality.
And, a surprise leaped out, a 240Hz DELL Alienware m15 gaming laptop, beckoned with more Hertz than nearly all laptop mortals in existence. Real Hertz, baby!
In addition to the Alienware laptops, was a nice 4K miniature powerhorse I'd love to edit my Blur Busters posts on, but they wouldn't let me abduct that laptop (just kidding, Dell).
We are very excited about the big blast of Alienware products in the "Better Than 60Hz" arena. More UFO technology abounds from Area 51.
To Be Continued…