UPDATE (2018/04/09): The XBox FreeSync Upgrade is now available.
Microsoft and AMD have announced that they are working to bring FreeSync 2 support and HDMI 2.1 VRR support to the XBox One S and XBox One X gaming consoles.
Most games for consoles use VSYNC ON, which can add more input lag than PC gaming.
The addition of FreeSync bypasses the input lag of VSYNC ON, massively reducing input lag for console games.
The Microsoft Store page for the XBox One has also now listed FreeSync VRR and HDMI 2.1 VRR compatibility. It's in the specifications section of Microsoft's website: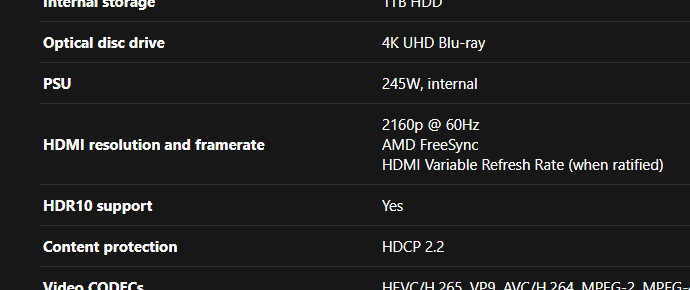 Incidentially, both FreeSync and HDMI 2.1 variable refresh rate support use the same technique for varying the refresh rate via a variable-sized blanking interval.
Later this year, further input lag reductions will happen with Auto Low Latency Mode will be added. Benefits includes automatic switching to your television's "Game Mode" and the use of HDMI 2.1 Quick Frame Transport (QFT).
For everyday console gamers, FreeSync eliminates stutters of varying frame rates, so that frame rate fluctuations becomes seamless and stutter-free smooth. For readers unfamiliar with the benefits of FreeSync, there's a TestUFO FreeSync animation demo that demonstrates stutterless varying of frame rates.
Advanced PC users have long been able to hack a form of QFT into PC gaming via the use of high dotclocks and low refresh rates via Custom Resolution Utilities (e.g. 60 Hz with the Pixel Clock of 144 Hz or 240 Hz, and Large Vertical Totals to reduce input lag of VSYNC ON), as well as other tricks such as HOWTO: Low-Latency VSYNC ON. It's great that this technology is finally coming to gaming consoles.