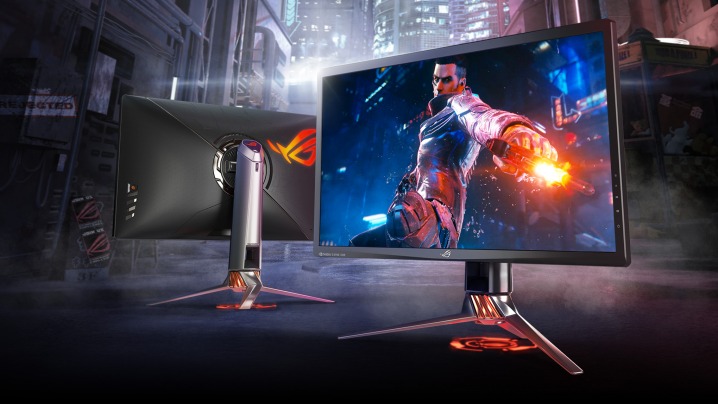 As reported here at Blur Busters earlier this year, Asus has been preparing to launch their newest 4K, 144hz powerhouse of a gaming display, the ROG Swift PG27U, also known in North America the PG27UQ.
Well, it's finally here! And earning terrific reviews over at the trusty Tom's Hardware Guide. Why is it so awesome? Quick recap:
27-inch, 3840 x 2160 resolution, up to 144 Hz refresh rate with G-SYNC.
1000-nit HDR10 capability with 90% DCI P3 gamut coverage via Quantum Dots. Gotta have 'em!
Terrific contrast and viewing angles, thanks to IPS + FALD (384 zones).
HDMI 2.0 input (for consoles or UHD Bluray players, limited to 60 Hz) as well as DisplayPort 1.4 for 144 Hz*.
Flicker-free backlight, with ASUS Eye Care, a blue light reduction mode for ergonomics.
Retail price is roughly 2K USD. Ouch! Better start saving.
Might as well get an RTX 2080 Ti to power it, you'll need one to pump these kinds of pixel clocks.
*DisplayPort 1.4 is limited to 98 Hz (without DSC) in 10-bit colour at the full 4:4:4 chroma resolution, which is what one should use for general Windows desktop, but for full-screen games it's perfectly fine to drop to 4:2:2 and go all the way to 144 Hz. For day-to-day desktop use, 98 Hz is plenty, or one can drop color depth to 8-bit.
The ASUS ROG PG27UQ is now available on Amazon.