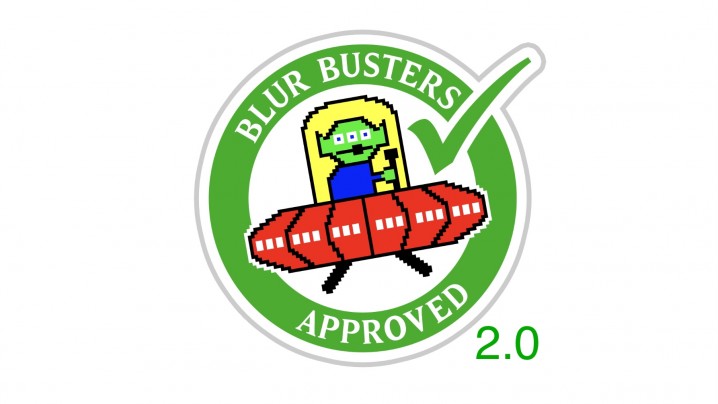 [Toronto / Hamilton, Ontario, April 9th 2021] 
Blur Busters is pleased to announce the relaunch of Blur Busters Approved Certification Programme, Version 2.0.
Blur Busters Approved is a certification programme that validates the quality of display motion on screens. For years, many LCD screens have had excessive amounts of motion blur. The goal of Blur Busters Approved is to further improve the quality of of display motion blur reduction, improving user experience, getting better reviews and ratings.
Last year at CES 2020, Blur Busters launched version 1.0 of our Blur Busters Approved certification programme for gaming monitors, with the launch announcement of ViewSonic XG270 gaming monitor display. This year, Version 2.0 certification programme is a post-COVID reboot that is bigger and better than last year's programme.
In the past, many displays have had a mixed record of motion blur reduction quality, such as poor color, dim brightness, excessive double images, or limited settings in the monitor's on-screen menus. We work with monitor vendors to solve all of these problems.
Whereas AMD provides FreeSync certification service, and NVIDIA provides G-SYNC certification service, Blur Busters provides certification services for display motion blur reduction to display brands.
As the economy emerges into the recovery from the 2020 pandemic, Blur Busters is well-positioned to offer engineering and certification services for display motion blur reduction technologies. In addition to certification services, Blur Busters now provide consulting services that assists manufacturers and scaler/TCON vendors to improve the quality of display motion blur reduction.
"…Blur Busters Approved services manages to out-tune NVIDIA ULMB at higher quality and lower input lag, while offering an infinite number of custom strobed refresh rates…"
Some manufacturers only offers presets for motion blur reduction such as only 100 Hz, 120 Hz and 144 Hz, but not offering any other blur-reduced refresh rates. Blur Busters' custom-built strobe tuning equipment eliminates the need for choice-limiting presets of strobed refresh rates. Blur Busters services successfully helps manufacturers to offer better quality motion blur reduction with less strobe crosstalk with infinite choice of refresh rates, including custom refresh rates. 
Blur Busters also custom-tunes prototype screens, including DVT, EVT and PVT units. Blur Busters also assists monitor brands in better communicating to third-party scaler, TCON and firmware vendors such as RealTek, MSTAR, TPV, and others. We help advise on custom modifications necessary to improve motion blur reduction to the maximum theoretical possible quality within a fixed budget.
Blur Busters is the foremost expert in display motion blur, mentioned in more than 20 peer reviewed research papers. Blur Busters tunes motion blur reduction quality to be several times better than they otherwise would be.
As experts in Quick Frame Transport (QFT) technology, Blur Busters can significantly lower the input lag of strobed motion blur reduction at all refresh rates, with input lag lower than current versions of NVIDIA ULMB.
With less fear of input lag, more competitive players in esports turns on motion blur reduction in games. Top champions in certain specific games, such as Rainbow Six, use strobing-based motion blur reduction during professional game play.
Blur Busters has also successfully custom-tuned display panels to an infinite number of refresh rates — no limited refresh rate presets — at a fixed flat fee. This includes motion blur reduction for all custom refresh rates 60 Hz through 360 Hz and beyond, as a complete continuum of custom-tuned refresh rates.
Thousands of people in the Blur Busters audience also get more headaches from display motion blur than from CRT-style flicker. Blur Busters gives users the choice to optionally single-strobe any refresh rate, low or high. Because of the differing ergonomic needs of different people, users who have more flexibility and choice are happier with their monitors.
Many users have requested ability to have optional 60 Hz motion blur reduction, to improve viewing of 60 years worth of legacy 60fps 60 Hz material — including videos and retro games —with perfect CRT motion clarity, without display motion blur. At higher refresh rates, such as 240 Hz, there is no visible flicker of display motion blur reduction, while everything remains extremely tack-sharp during fast motion.
Blur Busters now offers optional motion blur reduction utility software to all clients of Blur Busters Approved for free licensing included at no additional charge. This is available for internal use/testing/pre-validation — or at the vendor's option — advanced custom user download. A custom UI theme skin is provided at no additional charge. An optional Strobe Utility also allows users to instantly turn on/off display motion blur reduction via a system tray icon, as a faster backup method to accessing monitor menus.
Blur Busters Approved 2.0 is open to all retail display manufacturers. As of April 2021, three manufacturers have now booked seven models of high refresh rate displays (over the next 12 to 24 months) for services relating to certification under Blur Busters Approved 2.0.
ViewSonic XG2431 is the first monitor to pass the rigorous testing thresholds of Blur Busters Approved 2.0.
The XG2431, arriving on market this spring 2021, is a 240 Hz 23.8" 1ms IPS panel that performs faster than many TN panels with less strobe crosstalk at all refresh rates, for multi-purpose use including for PC gaming, for gaming consoles, and for video watching.
The PureXP+ motion blur reduction feature on XG2431 includes easy settings pre-tuned Blur Busters that is pre-installed at the factory. They only simply need to be turned on/off.
In addition, an optional Custom PureXP+ mode can be tuned by end users via an optional ViewSonic Strobe Utility, an optional download for advanced users of XG2431, to achieve custom measured MPRT as low as approximately 0.1ms, or to achieve a brighter low-crosstalk strobe.
Blur Busters — a part of Rejhon Technologies Inc. — is a supplier of display testing inventions and services for the display industry, including TestUFO and many other products. Our UFO tests are widely used by LinusTechTips, RTINGS, TomsHardware, PC Gamer, TFT Central, PC Monitors, SWE Clockers, HDTV Poland, C|Net, and thousands of other reviewers, streamers and YouTubers.
Our Blur Busters UFO trademark, in all forms, is now widely recognized by millions in the high end gaming industry.
For vendor inquiries about Blur Busters Approved 2.0, contact [email protected]
For general questions about press releases, contact [email protected]
– – –
For last year's Version 1.0 announcement, see Blur Busters Approved CES 2020 Announcement.