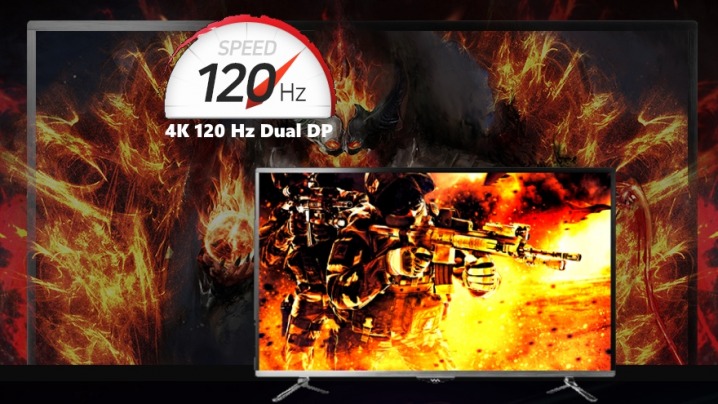 A korean display manufacturer has released a 4K 120 Hz display [Korean website] with two DisplayPort inputs and multiple HDMI 2.0 inputs.
This is the new UHD430, which does 120Hz at 4K, unlike the older UHD420.
Sold domestically, it's possible to order this display on eBay by a Korean seller with free international shipping to North America and Europe.
Several snippets from the manufacturer webpage highlights the 120Hz 4K feature:



The manufacturer has written in many places that this is true 120Hz at 4K resolution. There is also YouTube video proof by a user who confirmed it is 4K 120 Hz in TestUFO.
Currently there is no FreeSync support.
This may be the first retail/commercial 120Hz-capable 4K display, after the Zisworks 4K 120Hz kits.
Here are the confirmed translations into English for the 43″ 4K 120Hz monitor, along with contextual crops from the manufacturer's page:
400 nits brightness

HDR support

Full 4:4:4 chroma support:

IPS panel with 1200:1 native contrast ratio (1,000,000:1 dynamic)

5ms GtG pixel response

10-bit color (1.07 billion colors)

4K Picture-in-Picture support capable of up to four 4K60 images (scaled)

Two Displayport 1.4 supporting 120 Hz

3 x HDMI 2.0 ports
2 x DisplayPort 1.4
1 x Toslink optical audio output (for receivers)
1 x USB port (for thumbdrive media, or power for streaming sticks)

The 43″ 4K 120Hz monitor is currently on eBay by a Korean seller.