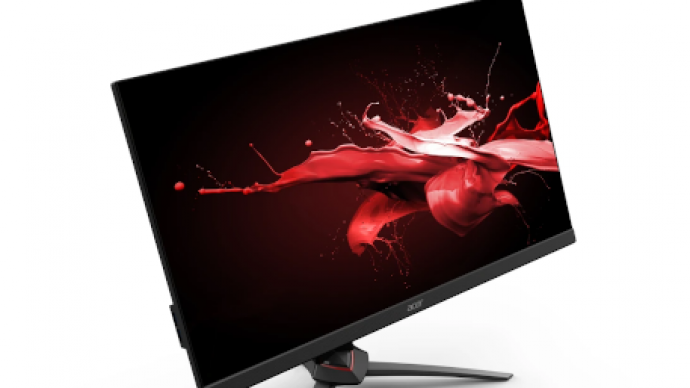 In keeping with earlier news at IFA 2019 and all of the fantastic new monitor and tech releases, Acer is not to be outdone, as they have released four new monitors in its Acer Nitro XV3 range.
More 240 Hz IPS monitors unveiled!
In addition, Acer unveiled a 300 Hz and a 144 Hz gaming laptop.
Four New IPS Gaming Monitors
Two of the four are 24.5" IPS panels, while the other two are 27" IPS panels. Each size seems to have a "lower" and "higher" end spec for each monitor. For example, the XV253Q X 24" runs at 1920×1080 with a refresh rate of 240 Hz, while the XV253Q P is also 1920×1080, with a lower refresh rate of 144 Hz.
Acer have noted a few differences for the 27" monitors though, where the XV273U S runs at 2560×1440 with a 144 Hz refresh rate, also allowing overclocking up to 165 Hz. While the XV273 X is also a 27", but runs at 1920×1080 with a 240Hz refresh rate. It also houses DisplayHDR 400 and a 1ms GtG response time.
Each of the four all support variable refresh rates and are NVIDIA G-SYNC Compatible which also works with FreeSync as well. Along with that, they come with Acer's own vision upgrades such as Game Mode, VisionCare with Flickerless, ComfyView and BlueLightShield. The press release on Acer's site has confirmed that the Acer Nitro XV273 X is actually an IPS display.
Acer XV253Q X
24.5″ IPS
1920×1080
240 Hz
FreeSync & G-SYNC Compatible
Acer XV253Q P
24.5″ IPS
1920×1080
144 Hz
FreeSync & G-SYNC Compatible
Acer XV273U S
27″ IPS
2560×1440
144 Hz (with 165 Hz overclock)
FreeSync & G-SYNC Compatible
Acer XV273 X
27″ IPS
1920×1080
240 Hz
1ms (GtG) Response Time (0.1ms min)
FreeSync vG-SYNC Compatible
Kitguru states that the above full series of monitors sport IPS panels with "low response times", though the official word on GtG response time has not arrived yet.
Acer Triton Laptops With 300 Hz and 144 Hz
Acer has also kept itself in the buzz of the news this week due to its new 300Hz gaming laptop. This, of course, follows the recent news about ASUS and it's 300Hz portable gaming monster, Acer's updated Predator Triton 500.
The laptop already boasts some high-quality specs at the helm with an Inteli Core i7-8750H, with an RTX 2060 or RTX 2080, either 16GB or 32GB of DDR4 RAM and the possibility of dual 512GB SSDs in RAID. With the addition of the new 1080p 300Hz refresh rate, and 3ms GtG response time, the Predator Triton 500 has entered some new territory.
According to the official website, the Triton 500 weighs in at just 2.1kg, so it' quite light and has a 17.9mm form factor. True gaming power on the go.
The Triton 500 is supposedly coming in at $2,800 when launched in December. However, if that's a little too rich for your blood, Acer also announced the Predator Triton 300. Not quite a 300 Hz laptop this time around, but a respectable 144 Hz with the specs to boot.
The Acer Offering an Intel Core i7, GTX 1650 and a 1TB NVMe SSD, the 1080p laptop will be able to hold its own against other mobile gaming machines.