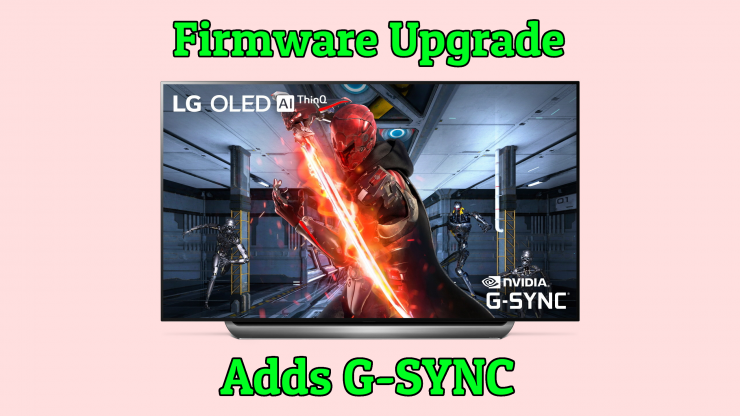 Earlier at CES 2019, LG announced they were adding VRR support to their OLED televisions.
Today, LG has announced a firmware upgrade that adds NVIDIA-certified G-SYNC Compatible support to their OLED HDTVs.
This is fascinating news, since now you can use any graphics card that supports VRR with these new LG HDTVs, enjoying fluid variable refresh rates.
G-SYNC is in Addition to Existing HDMI VRR / FreeSync Compatibility
The "G-SYNC Compatible" moniker is a new NVIDIA G-SYNC certification program for displays that do not have a native G-SYNC chip. Consequently, it is now possible for AMD FreeSync certified displays to also simultaneously be G-SYNC Compatible certified as well.
Benefits for Video Playback Too
One interesting benefit of VRR OLEDs is smoother video playback from a computer — they also support any custom frame rates without judder (i.e. 48fps HFR) using VRR-supported players such as SMplayer. It does take some video player configuration, but once configured, any framerate plays smoothly, with the OLED automatically set to the same refresh rate as the frame rate of the video file.
G-SYNC Compatible LG TVs
E9 panel with sizes 55″ and 65″
C9 panel with sizes 55″, 65″ and 77″
B9 panel
In addition to G-SYNC Compatible support, the Auto Low Latency Mode (ALLM) is also included in the firmware update too. This allows computers and game consoles to automatically switch the TV into a low latency mode.
To support G-SYNC Compatible mode on these TVs, the NVIDIA GeForce RTX 20X0 series has HDMI VRR support being added to graphics drivers. Get ready with an RTX series graphics card if you're playing Team Green with these televisions.
For those users not familiar, variable refresh rate allows the refresh rate to dynamically stay in sync with a fluctuating game frame rate. We have a large FAQ for advanced users, called G-SYNC 101, that covers a wide breadth of topics.
Users of these televisions will be able do a firmware update over the network, to add these modes.