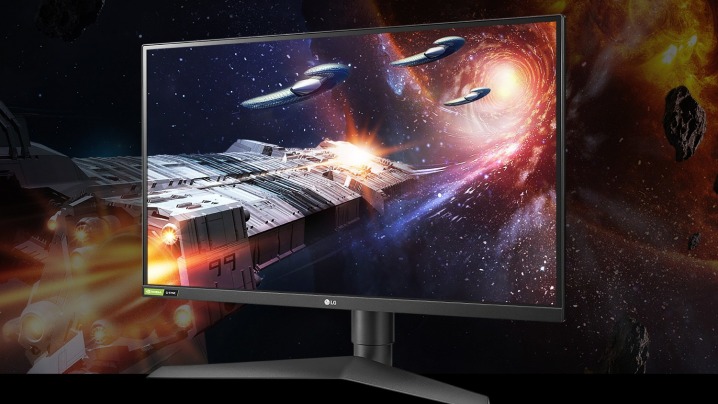 LG is another manufacturer who has decided to jump into the world of incredibly good gaming monitors with its new LG UltraGear 27GN750.
The latest addition to the lineup adds an ultra-fast 27" IPS monitor, running at 1920×1080 with a 240Hz refresh rate. It also comes with NVIDIA G-SYNC and a 1ms (GtG) response time. The 27GN750 joins both the 27GL850 and the 38GL950G in the UltraGear range. And just like those two monitors, the 27GN750 comes with LG's Dynamic Action Sync and the Black Stabilizer.
Two of these monitors are G-SYNC Compatible. On that note…
AMD Cards Also Work With Monitors Labelled "G-SYNC
Compatible

"
We observe an increasing trend of monitor manufacturers using "G-SYNC Compatible" label instead of "G-SYNC" or "FreeSync" to market monitors otherwise also FreeSync-compatible. For those who have forgotten, we wrote a piece about this earlier this year.
This is brilliant marketing by NVIDIA to certify FreeSync monitors, causing monitor manufacturers to inexpensively label the higher-quality generic VRR monitors as "G-SYNC Compatible" with less of the G-SYNC cost premium (native G-SYNC has extra attributes many willingly pay for, such as ULMB, improved overdrive, and less ghosting).
This allows NVIDIA to get more brand name marketing, at cost to AMD, because monitor manufacturers say "G-SYNC Compatible" instead of "FreeSync".
We welcome the vigorous competition. Everybody wins. G-SYNC becomes cheaper via the Compatible label, and better quality even on AMD cards!
However, we express a bit concern by confused readers that contact Blur Busters to ask about G-SYNC and FreeSync compatibility, since some monitor manufacturers ceased to mention "FreeSync", despite also functioning with AMD Radeon graphics cards at high quality!
Be noted, "G-SYNC Compatible" means NVIDIA certified a generic Adaptive-Sync / VRR display, as having passed quality thresholds to warrant the G-SYNC label. Such displays work with FreeSync-enabled AMD Radeon cards too.
The higher performance native G-SYNC displays with the G-SYNC chip require an NVIDIA card. However, but ones only labelled "G-SYNC Compatible" also work with AMD. If G-SYNC is followed by the word "Compatible", it means it also will work with AMD Radeon graphics (And soon Intel) too.
UltraGear Monitors Arriving End Of 2019
The first of the new LG UltraGear monitors are expected to release at the end of 2019 but there is no pricing information as of yet. TFT Central has speculated that there are uncertainties as to which panel the monitor is using, as the LG Display panel is not meant to be in production as of yet. The full specifications for each monitor can be found below, courtesy of LG.
27GN750
27-inch IPS display
1920×1080 Resolution
240 Hz Refresh Rate
1ms (GtG) Response Time
NVIDIA G-SYNC Compatible. Also compatible with AMD FreeSync
27GL850
27-inch Nano IPS
2560×1440
144 Hz Refresh Rate
1ms (GtG) Response Time
NVIDIA G-SYNC Compatible. Also compatible with AMD FreeSync
38GL950G
37.5-inch Nano IPS
3840×1600 Resolution
175 Hz Refresh Rate
1ms (GtG) Response Time
NVIDIA G-SYNC