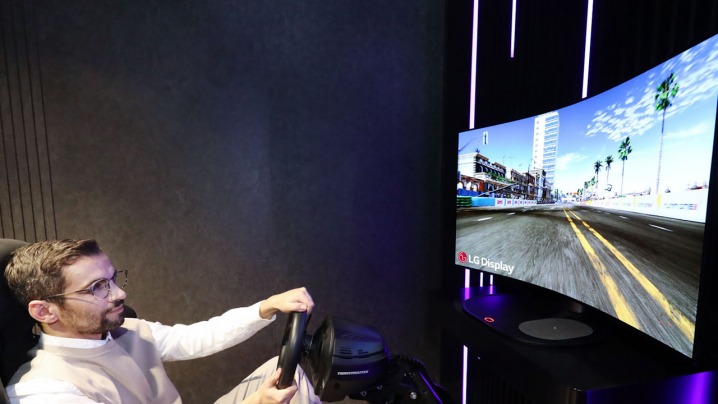 New LG OLED Displays As Small As 31.5″ And 42″
Many Blur Busters readers are apparently using LG C9 and CX 48″ 4K 120Hz G-SYNC OLED displays as gigantic gaming monitors. However, these are somewhat too big for some people. The good news is LG has launched smaller OLED displays more suitable for use as computer monitors.
LG announced the new OLED panels that will be launch come in as little as 43-inches when talking about their TVs. The article posted on The Verge mentions that the OLED TVs go all the way up to 83-inch panels and the upcoming "next-generation" 77-inch panel that's coming will be 20 percent more efficient, making it capable of higher brightness than before, which has been a downside to OLED TVs.
These LG TVs will come in the Z1, G1, C1 and A1 series, and will range from 4K to 8K. The G1 Evo panel is the new brighter panel which doesn't yet feature on the new 2021 models of OLED displays.
Also, an LG OLED computer monitor, the OLED UltraFine Display 32EP950, is also being launched in a 31.5″ format, according to TweakTown.
LG UltraUgear 27GP950, Successor to the 27GN950
First and foremost, LG has announced that the UltraGear 27GP950 is here. This monitor is an upgrade to the ever-popular 27GN950 with largely the same spec, but the added HDMI 2.1 connectivity. The monitor is a 27-inch display running at 3840×2160 on an IPS panel and has a 160Hz maximum refresh rate.
TFTCentral mentions that the monitor doesn't quite state whether the 160Hz will work over HDMI 2.1 or whether it will be limited to the native 144Hz maximum, but we'll soon be able to test it for ourselves. We know that the display has a 1ms GtG response time and comes with adaptive sync support for NVIDIA and AMD.
Bendable OLED Display
With CES 2021 here, LG has wasted no time in talking about its new display, the 48-inch Bendable CSO display. The new OLED TV can be switched between a flat or a curved screen, changing the way that you watch videos or movies, and then allow for a more immersive experience in playing games. Big thanks for the tip from a Blur Busters forum member.
The term CSO display stands for Cinematic Sound OLED and it features a very thin film underneath which turns the OLED panel into a speaker. It allows for a slimmer TV but also allows the audio to come directly from the screen, adding to the immersive experience you will receive while playing games and watching videos. Engadget reports that LG has tipped the screen to support variable refresh rates of up to 120Hz. We'll hopefully have a demonstration as CES rolls closer.