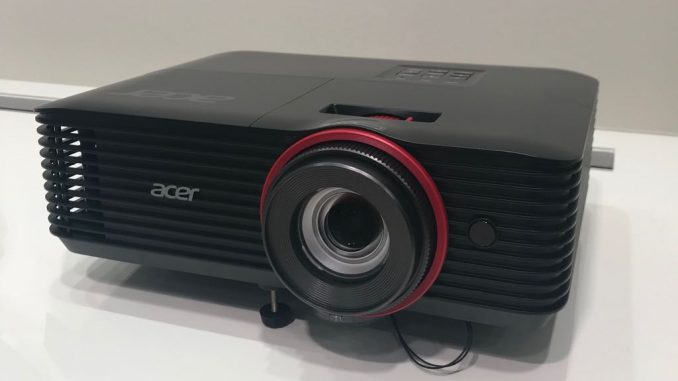 For big-screen gamers who enjoy the occasional 3D game or movie, it's been a long wait for very low input lag combined with new image quality features such as HDMI 2.0, 1080p 120 Hz and HDR support.
Two models just announced, the ACER G550 and the Optoma HD27HDR models offer features that should excite many out there. They're both based on TI's much older 0.65 inch DC3 1080p DMD, which offers around 2000:1 native contrast ratio which is three times better than the more recent 0.47 inch which tops out at around 700:1 but which runs at 240 Hz internally to show simulated 4K via shifting. Other simulated 4K projectors tend to also have at best 50ms input lag which is disappointing, historically. Until these new projectors…
Instead of doing 4K, the older DC3 chip can be used to achieve ultra-low lag. This, for competitive gamers, is a smart tradeoff, since contrast and low-lag matters more than simulated 4K for competition gameplay. The older chip can still achieve low input lag, 10-bit colour (for HDR10 decoding), and 120 Hz quite easily.
Ultra-Low 8.3ms Lag in a Gaming Projector!
First off, as reported by the excellent french projector blog, "Passion Home Cinema", the new Acer G550 is a 2200 lumen, 1080p-based 3D projector that supports native 120hz input, and has an amazingly low (for a projector) 8.3ms input lag!
It's NVidia 3D certified for 3D gaming, which is a big deal for compatibility across many titles.
Unfortunately, it doesn't appear to support HDR10 decoding nor UHD / 4K downscaling.
Secondly, the new Optoma HD26HDR has a very decent 16ms input lag, 3D support (both DLP Link and IR-based, as the Acer above) but no native 1080p 120hz support, sadly. It is already available to pre-order for $650 USD.
This should deliver solid 60 Hz HDR10 big screen gaming, though since it also uses the older Texas Instruments DC3 chip and has a whopping 3400 lumens to spare, so its HDR quality should be much better than the 4K-shifting DLPs. HDR performance is dependent on the combination of native contrast and lumens, and this is a terrific spec for such a low price, even if it does lack even simulated 4K.
It might be possible for Optoma to add support for 120 Hz via a firmware update at a later date.
Within the next year, I expect to see models using a combination of the features from the above two projectors, plus laser light sources for faster dynamic dimming and wide colour gamut support, which should get us closer towards gaming nirvana.
Lacking 4K is not as big a deal, compared to 8 or 16ms input lag and 120 Hz support, so right now, the Acer G550 seems to be the best and lowest-lag gaming projector available for fast twitch games, and the Optoma if you are keen on playing console or PC games at 60 Hz while in HDR. HDR would at least give you a good image quality boost even on an older video card, and you can then turn on all the eye candy and antialiasing available.
HDR is really a big deal for realism and both PS4 Pro and Xbox One X should be able to run games 1080p at 60 Hz in HDR easily, foregoing 4K for a higher framerate which, to some, is a good tradeoff.
In the ideal world, if they would only combine these two projectors' specs and give us 1080p 120 Hz with HDR10+ and 8.33ms, using 2000:1 native contrast plus 3400 lumens to do HDR justice. The coming year should be exciting for projector fans, especially with native 4K units coming out (which are very expensive). That said, if you are on a budget, you can't go wrong by considering either of these worthy gaming projectors. 1080p is still quite awesome even on a projector, and either 120 Hz or HDR10 bring notable image improvements. It's just too bad they aren't available at the same time. Yet.
That said, finally some progress is being made in low-lag gaming projectors!