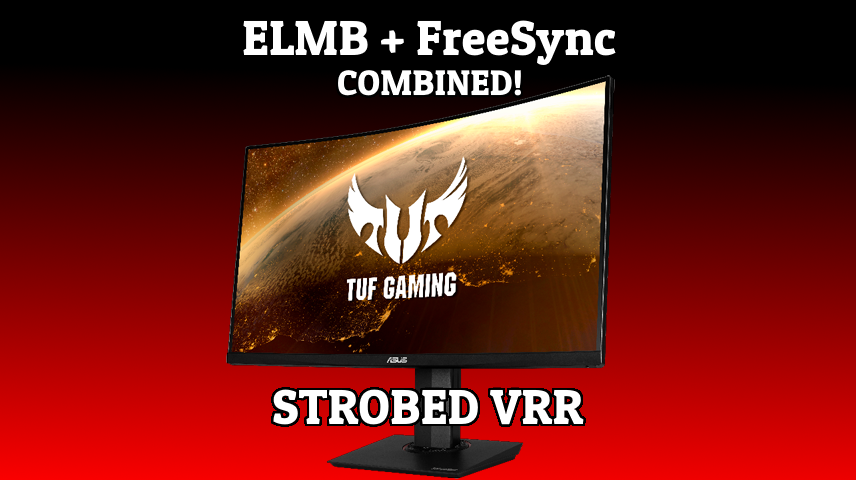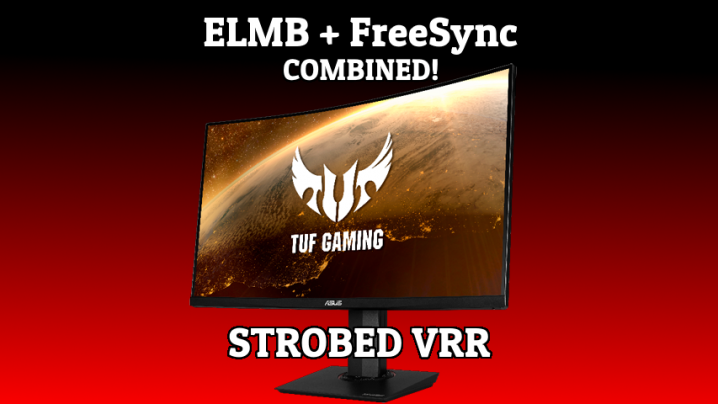 Many gaming monitors include a strobed motion blur reduction feature to eliminate display motion blur. Also, many include variable refresh rate (VRR) feature such as FreeSync to eliminate stuttering and tearing.
The ASUS brand for motion blur reduction is ELMB, which stands for Extreme Low Motion Blur.

However, you could never combine ELMB and FreeSync… Until now.
Introducing ELMB-SYNC: Simultaneous FreeSync and ELMB
ASUS has a new TUF Gaming brand, and its new gaming monitor ASUS TUF VG32VQ combines variable refresh rate (VRR) with motion blur reduction. ASUS says:
TUF Gaming VG32VQ: World's 1st display with concurrent motion blur reduction & Adaptive-Sync

TUF Gaming VG32VQ is a 32-inch, QHD (2560×1440), curved VA panel sporting HDR and an ultrafast 144Hz refresh rate for competitive gamers and those seeking immersive gameplay. Those are some serious specs, but not the most exciting thing TUF Gaming VG32VQ has in store.

VA panels are known for offering high contrast ratios and good color accuracy but deliver slower response times than TN based monitors. The VG32VQ gets around this problem by employing an advanced blur-reduction technology called Extreme Low Motion Blur Sync (ELMB-SYNC™). Previous solutions to combat motion blur relied on a fixed refresh rate and fast strobing backlight to achieve a 1ms (MPRT) response time. Motion blur reduction works by strobing the backlight between refreshes, while also turning up the display's brightness to help compensate for the reduced luminance. However, conventional motion blur technologies result in image artifacts when the graphics card frame rate isn't synchronized with the refresh rate of the monitor. ASUS has developed a technology that allows motion blur reduction to work in tandem with the variable refresh rate of Adaptive-Sync. The outcome is ELMB-Sync™ technology, an ASUS-exclusive feature that enables gamers to enjoy sharper moving scenes and butter-smooth gameplay.
Thus, the new brand for combining ELMB and FreeSync is now called ELMB-SYNC.
For years, combining strobing and variable refresh rate has long been a very difficult holy grail.
Fixing Jitters/Microstutters Amplified By Strobing
Often, display motion blur hides the visibility of microstutters. Turning on motion blur reduction makes tiny microstutters much more visible because of the lack of display motion blur. Workarounds are found in the forum thread "HOWTO: Using ULMB Beautifully or Competitively".
However, the ability to combine variable refresh rate AND strobing, can be a major solution to fixing the amplified microstuttering effect of motion blur reduction — if problems of erratic flicker is solved.
The Old Unofficial Secret ULMB+GSYNC Hack
NVIDIA's brands for blur reduction and variable refresh rate, is ULMB and G-SYNC respectively.
For years, there's been an unofficial secret ULMB+GSYNC hack that is used only by advanced users, because it takes a lot of time to correctly optimize/tweak to reduce erratic flickering problems.
Engineering Advanced Flicker-Reduction Algorithms For VRR Strobing
Several years ago in 2013, I wrote about potential flicker-reduction algorithms for strobed VRR. In addition NVIDIA published a patent about an algorithm for strobed GSYNC. A few years ago, a swiss researcher, Marc Repnow, posted a potential algorithm on his website to reduce flicker of VRR strobing.
I'm looking forward to seeing if ELMB-SYNC has erratic-flicker reduction algorithms, such as:
Improved VRR framepacing to reduce erratic strobing flicker;
Flicker-reduction via active brightness-averaging algorithms;
Wider strobed VRR range that is flickerfree;
It is very difficult to have a wide strobed VRR range because:
The minimum strobed Hz needs to be sufficiently above human flicker threshold;
The maximum strobed Hz needs to avoid too much strobe crosstalk;
Flicker at higher and lower Hz looks different.
This is a difficult engineering feat to produce comfortable VRR strobing that does not have annoying erratic flicker from erratic frame rates.
Reduced Strobed Input Lag Simultaneously With Reduced Stutters
Many users use VSYNC ON with blur reduction to fix strobed jitters / microstuttering. Combining VRR with FreeSync would thus reduce input lag of strobing without adding jittering or microstuttering.
We are really excited to see ASUS innovate in this arena!