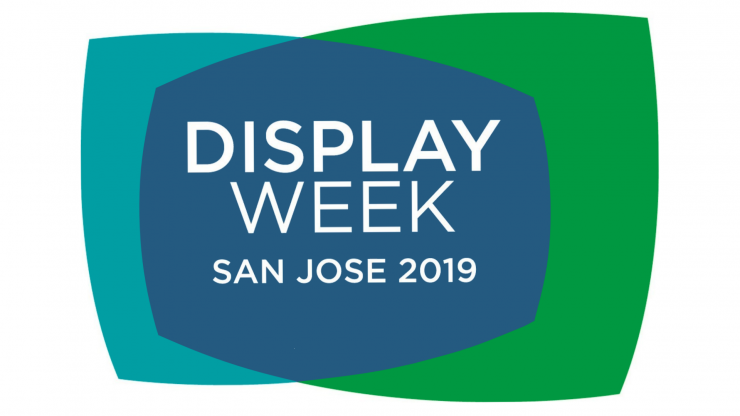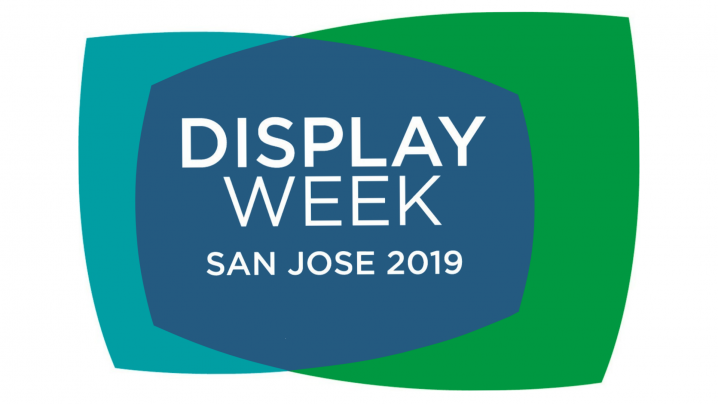 In addition to media reporting on "Better Than 60Hz" displays, Blur Busters continues to invent new display testing methods for fellow display review websites who use our tests.
So it was natural that Blur Busters heads to Society for Information Display's annual Convention, DisplayWeek 2019!
Not Your Usual CES or E3 Convention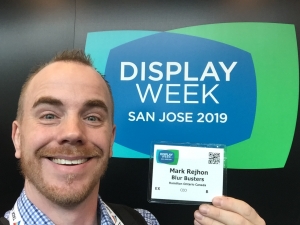 DisplayWeek is full of engineers and manufacturer suppliers. It is not a media-heavy convention.
However, Blur Busters business is not just media: we do many services for the display industry including overdrive tuning, strobe tuning, monitor certification, low persistence (MPRT), coding, consulting, and more…
The convention is only open to members of www.SID.org and is not widely covered by mainstream websites.
DisplayWeek Often Shows Future Display Technologies
While most booths are showing the nuts & bolts of the display industry trade, you often find fascinating gems that often shows in future displays in the next few years.
Local Dimming in Future LCD Mobile Phone Screens
Multiple vendors, including Tianma and CSOT, were showing off prototype smartphone LCDs with local dimming. The Tianma screen contained 4600 LEDs with up to 1000 nits peak HDR brightness. Here is Tinma:
And here is the local dimming smartphone LCD screen by CSOT, a Chinese manufacturer:
These screens showed OLED-quality black levels!
Specialized Colorimeter Cameras
Instead of using a common Spyder colorimeter, imagine a camera that measures the color of every pixel on the screen simultaneously.
High end colorimeter cameras are often used by professionals including display engineering.
Multiple 8K 120Hz Displays Actually Displaying 8K 120Hz
Japan Display and BOE were showing off true 8K displays running at a full 120 Hz refresh rate.
The sizes of displays ranged from as small as a few inches, all the way to giant 75 inches.
Many Nuts & Bolts Vendors
We are familiar with the big names (such as ASUS, Dell, NVIDIA, AMD, Razer, etc.). However, DisplayWeek is full of nuts and bolts suppliers such as display components, panels, circuits, etc.
Everything but the kitchen sink were there, including component suppliers, TCON/scalers, scientific equipment, test equipment suppliers, panel manufacturers, backlight manufacturers, quantum dots, chemicals, and other vendors.
Local Dimming for Virtual Reality LCDs
Japan Display, the maker of the prototype 120Hz+ OLED with Burning Core team, also showed off LCDs with local dimming for VR with a 200,000:1 contrast ratio!
Special Note: Current LCD-based VR now has slightly less motion blur than OLED-based VR, since the Talbot-Plateau law is less of a barrier with LCD (outsourced light) than OLED (tiny pixels) allowing brighter low-persistence modes. There has been difficulties reducing motion blur with OLEDs (see Why Does Some OLEDs Have Motion Blur?). The newly released LCD-based Valve Index VR headset to achieve as low as 0.3ms MPRT persistence, less than one-quarter the display motion blur of the OLED-based Oculus Rift VR headset.
Shockingly Colorful Desktop OLED Monitors
As usual, Japan Display was demonstrating multiple amazingly colorful OLED screens. They were easily the best-looking 4K desktop monitors I had ever seen.
Although the refresh rate was only 60 Hz, these were an absolute treat for my eyes.
Transparent Screens
Many displays at DisplayWeek were designed for specialty purposes, such as this transparent LCD designed for vending machines and advertising displays:
These displays are rather fun to play with.
Technical Seminars for Display Professionals and Engineers
At DisplayWeek were also many seminars. I personally attended some of these for Blur Busters work purposes. Here is a sampling of how technical the DisplayWeek seminars can become:
As you can see, these are mainly of interest for display engineering.
New Ultra High Contrast Ratio Stacked LCDs – 500000:1 Per Pixel
The brand new Hisense ULEDXD, with Nanosys quantum dot backlight, is a dual-stack LCD. It's like a monochrome LCD providing per-pixel local dimming to every single color LCD pixel!
These photographs were taken in an extremely bright show room.
However, in Nanosys' darkened home theater booth, these quantum dot dual-stack LCD displays showed absolutely stunning contrast ratios par excellencé bar none, bon appetit, numero uno — beating OLED image quality in most metrics.
See You At DisplayWeek 2020
Next year's DisplayWeek is in San Francisco on June 7th to 12th, 2020.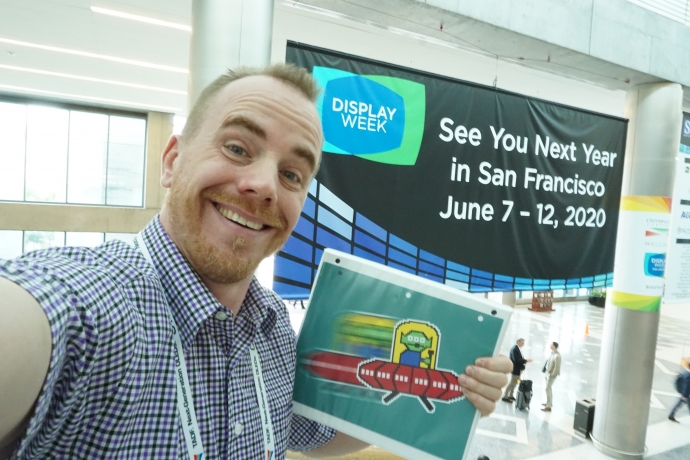 If you work anywhere remotely near the display industry (e.g. engineering, software, parts supplier, manufacturer, etc) beyond simply media reporting, it is a great convention to attend!