I visited Wynn Encore at CES 2018 where ASUS was holding their showroom for their monitors. We've already written earlier about the Big Format G-SYNC Display (BFGD), a 65″ 4K 120Hz G-SYNC display.
The first display that caught our attention was the ASUS ProArt PQ22UC OLED display – a 4K 60Hz OLED desktop monitor! We believe that OLED represents the future of gaming displays, in addition to FALD (Full Array Local Dimming) displays. Initially, this is targeted to the high-end display audience, for high-end graphics and professional video monitor purposes.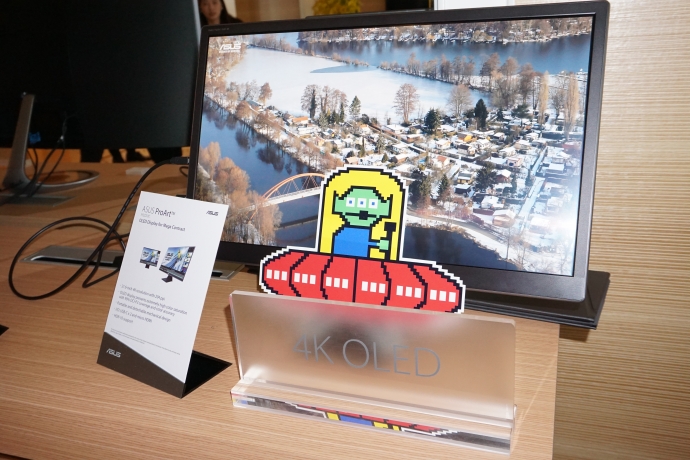 Once OLEDs gain the refresh rates of current gaming monitors, including 120Hz and up, we expect that OLED will eventually become the ultimate in gaming monitors.
They can become capable of low-persistence modes without lag (see Why Does Some OLEDs Have Motion Blur? which still remains true today, as well as Amazing Journey To Future 1000Hz Displays).
For the moment, they are pricey displays targeted to ultra-high-end graphics and video at the moment.
Next up is surround ASUS PG258Q's with a special prism that eliminated the bezel between the three 240 Hz monitors.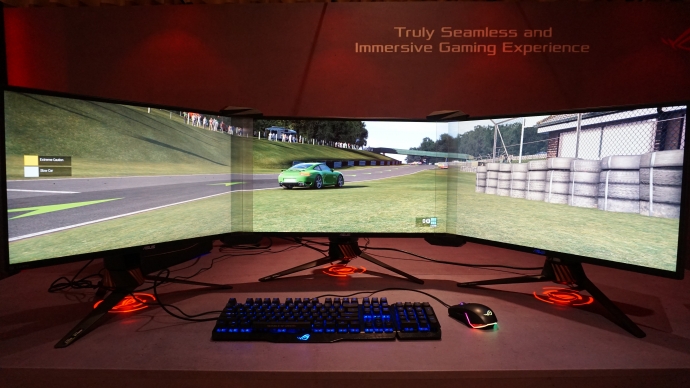 This would certainly be great for racing simulators, as the demo attested.
If bezels were not your thing, there's also always the ultrawide ASUS PG35VQ as well, a full 3440×1440 HDR ultrawide at a beautifully high 200 Hz refresh rate: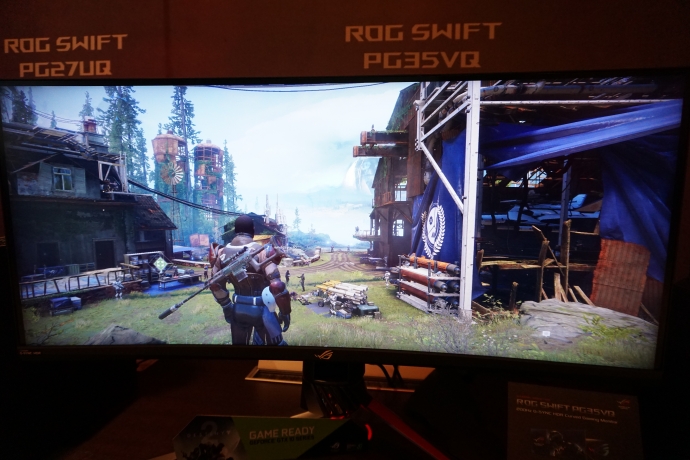 Things are certainly more immersive on an ultrawide, especially one fully capable of 200 Hz at a whopping 1440p, since most 200Hz-plus monitors are limited to only 1080p. So this is a special treat to see refresh rates this high at these resolutions.
We also saw the ASUS PG27UD monitor, a beautiful 4K 144Hz IPS HDR G-SYNC monitor. On this impressive desktop monitor, you certainly almost don't need FSAA, which you'll likely need to turn off to keep frame rates very high at 4K without your GPUs running in SLI or Crossfire!
Tf
To scale, our UFO mascot card is 10 inches, so you can see they've crammed all 4K of beauty into a 27 inch form factor. This display also has FALD (Full Array Local Dimming) to improve contrast and blacks, while brightening whites.
That said, if BIG is your preference, nothing beats the 4K 120 Hz G-SYNC BFGD, especially mounted on a wall approximately 4 feet slightly behind a deep desk, as written before.
We're excited to see all of these displays arrive on the market!