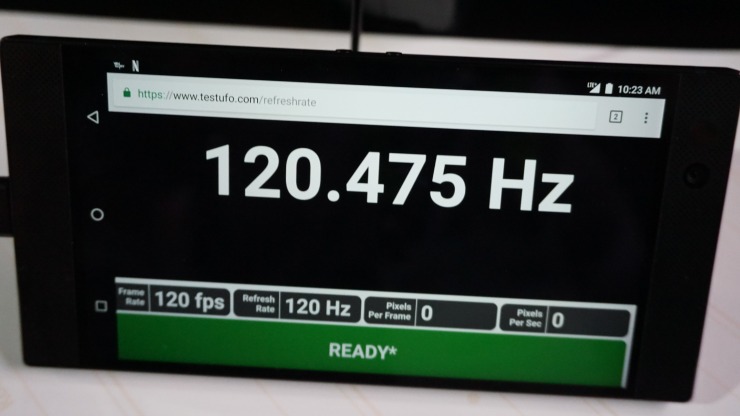 We had the opportunity to visit RAZER's booth, and viewing their pretty-illuminated G-SYNC laptops in black anodized aluminum.
That said, the technically impressive head-turner of the booth is their 120Hz RAZER Phone. This Android smartphone runs TestUFO beautifully at 120 Hertz.
I launched several games such as Team Fortress for Android. In-game, I was greeted with what looked like beautiful 120fps 3D graphics: The smartphone GPU managed to keep up in some game apps on the phone. This smartphone faster than a gaming rig from 2008!
The user interface on the phone phone scrolled and animated beautifully and stutterlessly.  This is a 5.72-inch 1440×2560 IGZO LCD made by Sharp, and has the usual excellent colors of the best smartphone LCDs, plus the bonus of 120Hz.
In fact, I made a spontaneous quick code change to TestUFO.com on my laptop on the spot, to make the website work with 120Hz Android phone with a green "READY". Now RAZER Phone users can show off all the 120Hz goodness with TestUFO.
The RAZER Phone is now available online.